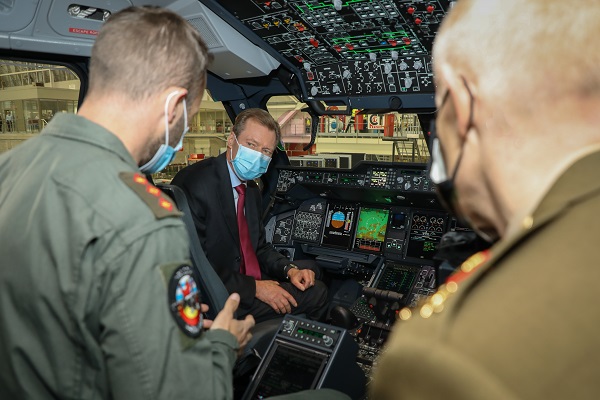 HRH Grand Duke Henri; Credit: EMA
Following its arrival at Luxembourg Airport on Wednesday afternoon, the official welcome ceremony for the new A400M military aircraft took place at the airport yesterday in the presence of His Royal Highness the Grand Duke, Deputy Prime Minister and Minister of Defence, François Bausch, and the Chief of Staff of the Luxembourg Army, General Steve Thull.
Since this aircraft will be part of a Belgian-Luxembourg fleet, Belgium was represented on this occasion by the Belgian Ambassador to Luxembourg, Thomas Lambert, and the Vice-Chief of Belgian Defence, Marc Thys.
After the official speeches, the guests had the opportunity to tour the interior of the aircraft, which has a maximum load of 37 tonnes and can carry 116 passengers.
Back in June 2001, Luxembourg and Belgium signed a cooperation arrangement relating to the acquisition and joint operation of an A400M type strategic transport aircraft. The two countries have undertaken to acquire eight A400M transport aircraft, including seven for Belgium and one for Luxembourg. This new strategic transport aircraft could be used to support military operations as well as crisis management and humanitarian aid missions.
Belgium will provide logistical support, joint crew training, maintenance and future modifications to the aircraft and its support equipment. Luxembourg will provide three crews, which is equivalent to six pilots (officers) and six supporters (non-commissioned officers). In addition, a Luxembourg officer has been integrated into the operational staff of the Belgian Air component since 2017 in order to monitor the implementation of the A400M project.
The aircraft will be operational after a training period to allow personnel to familiarize themselves with this new capability and with the various procedures and specificities relating to it.
The Luxembourg A400M performed an inaugural low-altitude flyover from Luxembourg Airport to Melsbroek Air Base in Belgium, where the aircraft will be based.