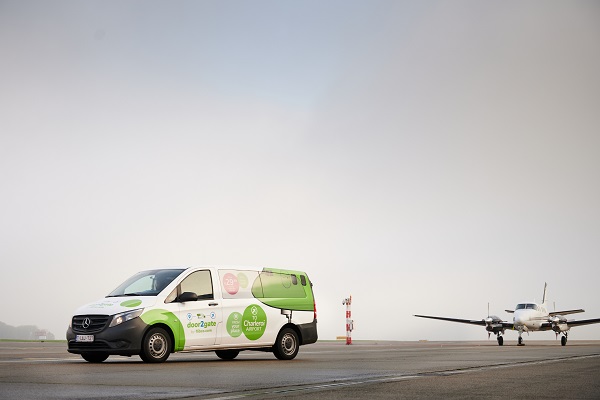 Door2Gate service; Credit: flibco.com; BSCA
Brussels South Charleroi Airport (BSCA) and flibco.com have announced details of the launch of a new transport service to and from the airport: Door2Gate.
On Tuesday, flibco.com, a specialist in the transport of passengers to/from airports, launched a new alternative means to travel to Brussels South Charleroi Airport.
Door2Gate, a shared mobility solution, aims to transport travellers from home to the airport, in a personalised way. On board a comfortable vehicle and with other passengers, they will be accompanied from their door to the BSCA entrance.
The Door2Gate alternative improves the accessibility of the airport and is intended for families, business travellers and other members of the public travelling for leisure and tourism.
In addition, thanks to its route optimisation algorithm, the new flibco.com software makes it possible to ensure the punctuality of shuttles by defining the best possible route. The goal is to support a maximum of passengers through the optimisation of navigation data; the cost of the journey is then divided according to the number of occupants on board. For instance, from the centre of Brussels to BSCA, an individual will pay €29.99; two people travelling together will pay €21.50 each. Consequently, the greater the number of occupants of the shuttle, the lower the price of the service.
The catchment area of ​​the first phase of launching includes the entire Brussels-Capital Region, its periphery and a large part of Walloon Brabant to the limit of Hainaut (from Hulpe to Pont-à-Celles via Wavre and Ottignies -Louvain-La-Neuve). Depending on the success obtained, the geographical coverage of Door2Gate will be progressively extended.
Paul De Muynck, Director of flibco Belgium, commented: "The Door2Gate is a big step for flibco.com. Many passengers know our coaches that crisscross the Belgian motorways. From now on we will take our customers to their home or hotel and bring them back to the airport in an economical and ecological way".