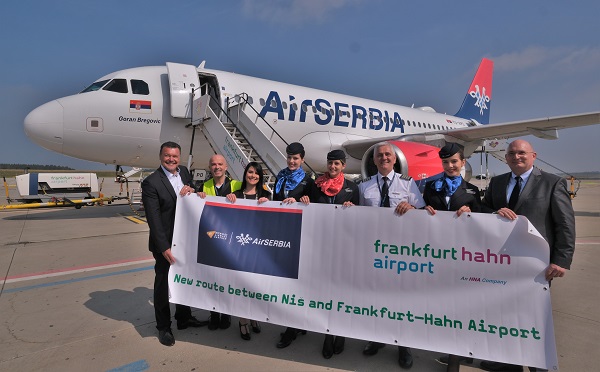 Christoph Goetzmann, COO of Frankfurt-Hahn Airport (right) greets the crew of Air Serbia at Frankfurt-Hahn Airport; Credit: T. Torkler
Frankfurt-Hahn airport has announced that a new airline is now operating from the airport since yesterday, 17 July: the Serbian airline Air Serbia is expanding its summer flight schedule to the Balkans by two weekly flights to the Serbian university city of Niš.
The aircraft used are Airbus A319s with a capacity for 144 passengers.
On arrival, the flight of the largest Serbian airline was traditionally greeted with water jets from the airport fire brigade. Air Serbia takes off twice a week from HHN to Niš - Constantine the Great Airport.
"We are pleased to welcome Air Serbia, a rapidly expanding airline, at Frankfurt-Hahn Airport. The flights to Niš are a very good addition to our existing offer," said Christoph Goetzmann, Chief Operating Officer of Frankfurt-Hahn Airport.
Niš is located in the southern part of Serbia and is the third largest city in the country. With its numerous excavation sites and monuments, the city is an important place in Serbian and European history. Niš is also an important industrial and commercial city in the Balkans and offers good transport connections to Belgrade, Sofia and Pristina.