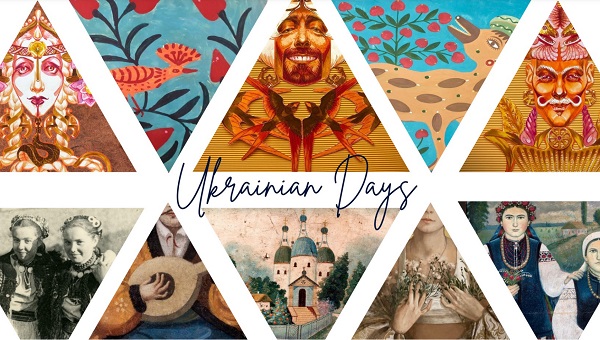 Credit: LUkraine asbl
LUkraine asbl has announced that the first festival of Ukrainian culture in Luxembourg, "Ukrainian Days", will take place from 1 to 15 June 2023.
The festival, of which Chronicle.lu is a media partner, aims to showcase the cultural richness of Ukraine and promote cultural exchanges between the two countries. The first edition of Ukrainian Days (UA Days) will offer people in Luxembourg the opportunity to discover Ukrainian art, cinema, music, fashion and photography.
The festival receives support from the Embassy of Ukraine in Belgium, the Consulate of Ukraine in Luxembourg and the Representation of the European Commission in Luxembourg.
This year's festival will kick off with a pre-opening fashion show featuring Ukrainian designers, in cooperation with Luxembourg Art & Fashion Foundation (LAFF) asbl, on Thursday 1 June 2023. The festivities will continue with a photo exhibition dedicated to Ukraine, which will open in Hesper Park in Hespeange on Saturday 3 June 2023.
The official opening will take place on Monday 5 June 2023 at Tramsschapp cultural centre in Luxembourg-Limpertsberg. This will take the form of an "Extravaganza" show, featuring literature- and mythology-inspired artworks by Oleksandr Teterin, a concert by world-renowned Ukrainian violinist Vasyl Popadiuk (widely known as the "Ukrainian Paganini"), poetry readings (in French) and a buffet dinner are on the agenda.
From Thursday 8 June until September 2023, the Maria Prymachenko Family Foundation will showcase a selection of works by the beloved Ukrainian folk art painter at Lëtzebuerg City Museum. Speaking to Chronicle.lu about the event, LUkraine asbl Vice President Inna Yaremenko described the late Maria Prymachenko as a "national treasure". She noted that one of the artist's family members will travel to Luxembourg to represent the foundation at the launch of the exhibition on Wednesday 7 June 2023.
Inna Yaremenko added that a museum housing some of Maria Prymachenko's works was destroyed last year as a result of Russian aggression in Ukraine; now the foundation is collecting money for a new museum. "It's also an opportunity to speak about art during the war [and] destroyed museums," noted LUkraine asbl's Vice President.
Various Ukrainian film screenings, additional fashion shows and exhibitions are also on the agenda, with several special guests set to attend.
The first UA Days will come to a close on Thursday 15 June 2023 with concerts by a Luxembourgish and a Ukrainian band, art exhibitions, street food and various interactive activities at Rotondes in Luxembourg-Bonnevoie.
Inna Yaremenko noted that this was the start of an annual cultural event in Luxembourg. She acknowledged there had been some organisational challenges for this first edition, but was hopeful that the event would become even more "amazing" and attract more partners in future. Initial preparation for the next edition has already begun.
Further information about this year's UA Days in Luxembourg is available online at https://uadays.lu/.