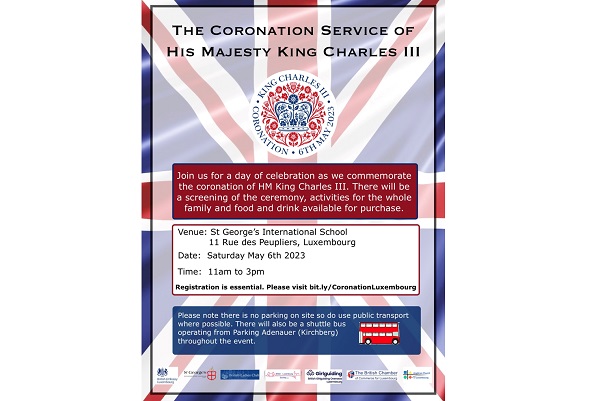 A community event to commemorate the upcoming coronation of King Charles III of the United Kingdom (UK) will take place at St George's International School in Luxembourg-Hamm on Saturday 6 May 2023, from 11:00 to 15:00.
The British Embassy in Luxembourg, St George's International School Luxembourg, the British Ladies Club of Luxembourg (BLC), the British-Luxembourg Society (BLS), the British Chamber of Commerce for Luxembourg (BCC), the Anglican Church of Luxembourg, British Girlguiding Overseas - Luxembourg and Telstar Scouts have teamed up to organise this day of community celebration.
Attendees can expect a screening of the coronation, food and drink stands and various family-friendly activities.
Speaking to Chronicle.lu about the British Embassy's decision to (co)organise this event, the British Ambassador to Luxembourg, Fleur Thomas, said: "The Coronation of King Charles and Queen Camilla is a historic event the likes of which has not been seen since the coronation of Her late Majesty the Queen in 1953 - well before I was born. The day itself is of course centred around a solemn religious ceremony, but it is also a unique occasion for pageantry and celebration. With over 6,000 Brits living in Luxembourg, we thought it would be a wonderful idea to bring the British, Luxembourgish and international communities together to celebrate Their Majesties and experience a British fête in the heart of Luxembourg. I have also written to my non-resident Ambassador counterparts from the Commonwealth countries inviting them and their citizens to participate in this celebration."
More specifically, regarding the significance of this event for the British Ambassador and, more generally, the British people (and people of other nationalities), Ambassador Thomas stated: "The Monarchy is more than a constitutional form of government; it makes up an important part of British pride and identity and it stands for unity, stability and continuity. Following the passing of Her late Majesty The Queen, we were all incredibly touched by the outpouring of grief and respect we witnessed not only from the British communities, but from people of all nationalities. Talking with the various British organisations in Luxembourg, we all agreed that the coronation of Their Majesties would be an excellent opportunity to channel these feelings of community into a celebration of this new Carolean era for the United Kingdom and the Commonwealth. From the numbers registering for the event, we have already shown that we were justified as it is clear that this event has really been welcomed."
She added that the organisers are expecting "well over 600 people" to attend this event, although the weather may play a role in terms of final numbers. With spaces "filling up fast", she encouraged everyone who is interested in attending to register online sooner rather than later at bit.ly/CoronationLuxembourg.
Attendance is free but registration is necessary. A designated shuttle bus will depart every 30 minutes from Konrad Adenauer, taking attendees to the venue (free of charge, following registration).