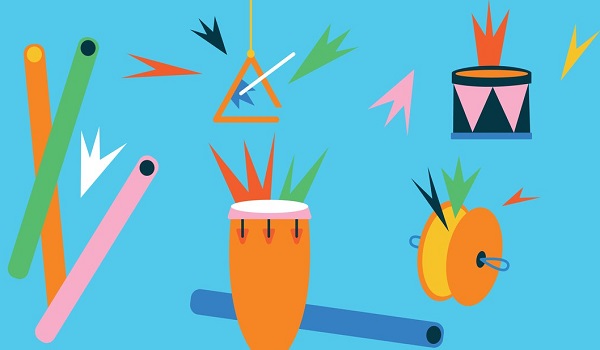 Credit: Philharmonie Luxembourg
To kick off the new season, the Philharmonie Luxembourg will host the first of three themed weekends for young audiences on Saturday 24 and Sunday 25 September 2022, from 10:00 (both days)..
With more than 150 children's performances per season, the Philharmonie has been offering a multi-faceted children's programme for many years. Three themed weekends will now add a more festive atmosphere to these efforts. This coming weekend, the Philharmonie will dedicate itself to percussion in all its forms as part of "The Percussion Extravaganza".
An essential part of all musical styles, percussion is the focus of this first themed weekend. Several workshops and events for listening to and joining in concerts will be offered in different languages, with titles such as "E fierchterlech léiwen Tiger", Future Beats", "Boomtastic" and "Groovin' Kids" and programmes tailored to children aged up to fourteen years. The programme includes a musical theatre work about an affectionate tiger who hopes that the young audience will help him make other animal friends.
The works are interpreted by high quality artists, including ensembles such as Double Drums and Louie's Cage Percussion. The latter will bring lots of instruments, inviting their audience on a sonic journey from classical to jazz and electro. Their workshop encourages children to share the stage with the artists, playing melodies from Disney films and pop songs.
The OPL Percussion Quartet will also meet their young audience members, sharing anecdotes and stories from their professional life along the way.
The world of percussion instruments is thereby made accessible from all angles, as Pascal Sticklies, Senior Manager of the Philharmonie's Education Department, explained: "The three themed weekends are an important innovation in the Philharmonie and OPL's multi-faceted education programme. These concentrated festival moments offer children, teenagers and the entire family the opportunity to delve deep into fascinating musical worlds. At the same time, they feature direct contact with highly accomplished and very friendly musicians".
Anyone still wanting more after the concerts, workshops and instrument-building sessions can try out various percussion instruments. An interactive musical museum in the foyer and in Place de l'Europe will also encourage children to play various instruments.
The Philharmonie's Education Department has planned two additional themed weekends for the 2022/23 season. In December 2022, "Chrëschtdag" (Christmas Day) will celebrate the most festive of holidays, Christmas, whilst in May 2023, the third weekend will focus on encounters between music and nature, offering a wide range of concerts and workshops.
Further information, including the full festival programme, is available on the Philharmonie website: https://www.philharmonie.lu/en/education/percussion_extravaganza.