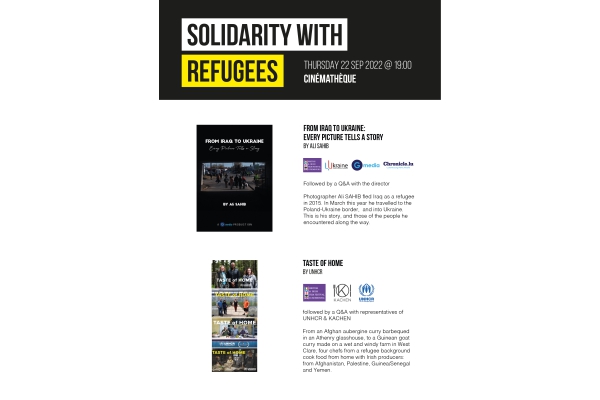 Credit: BIFFL
This year, Chronicle.lu is celebrating its 10th anniversary with two specific events.
The Chronicle.lu English-language online newspaper was launched in May 2012 by Geoff Thompson. Initially, he ran it himself and he then recruited others to work alongside him, including Jazmin Campbell who is now CEO of G-Media sarl, the company that operates Chronicle.lu and which is owned by Geoff. Recently, Chronicle.lu was granted the Aide à la Presse from the Luxembourg Government.
Geoff Thompson stated: "Having launched and operated Station.lu in the noughties and, for a short time Mozaik.lu subsequently, I was encouraged by both anglophone residents and a number of organisations who wanted to reach the anglophone community here. So, I conceived Chronicle.lu which I was able to do with both my IT background - particularly in building websites with Content Management Systems - and writing news stories, including overseeing the editorial and publishing process for the 352 weekly magazine and the Business Review monthly publication at New Media Lux. I had built up a network of contacts in both the social and business communities, and it is both of them that we now recognise and would like to involve them in our celebrations".
The two events are:
Social community event:
Tuesday 20 September 2022 @ 19:00 @ the Cinémathèque
Attendance at the Solidarity for Refugees event at the British & Irish Film Festival Luxembourg (BIFFL) from 16 to 24 September 2022.
The festival is showing solidarity with refugees by organising one evening with the screening of two short films (each circa 30 mins), including discussions around both: (a) "From Iraq to Ukraine" is the story of Ali Sahib, himself a refugee from Iraq, who travelled to Ukraine shortly after Russia invaded the country in February 2022, and (b) "Taste of Home" tells of refugees from Afghanistan, Palestine, Guinea and Yemen who settle in Ireland and showcase their home cuisine.
For this event, the organisers are also partnering with Kachen and LUkraine asbl.
Tickets cost €9 from https://www.luxembourg-ticket.lu/en/8/eid,53722/solidarity-with-refugees-from-iraq-to-ukraine-taste-of-home.html.
Business community event:
Monday 26 September @ 12:00 - 14:00 @ the DoubleTree by Hilton Hotel (12 Rue Jean Engling, Luxembourg-Dommeldange)
Geoff Thompson will speak at an ABAL luncheon organised by the American Chamber of Commerce in Luxembourg (AMCHAM). He will present details of the company formation, the launch of the online newspaper, its business model and how they handled IT outsourcing, staffing / recruitment, plus administration, and also their focus on the business and social communities.
Tickets cost €52 from https://www.amcham.lu/events/chronicle-lu-10th-anniversary/.
Geoff Thompson added: "Chronicle.lu is delighted to be able to involve both the social and business communities in its 10th anniversary celebration. In doing so, we are proud to be invited by AMCHAM, the largest international anglophone chamber in Luxembourg, to speak at one of the prestigious events, and we are equally proud to be associated with an event that is showing solidarity with refugees: since the beginning, we have shared stories about volunteering and donating to charitable causes and this event embodies this ethos. We look forward to seeing many people at both events".