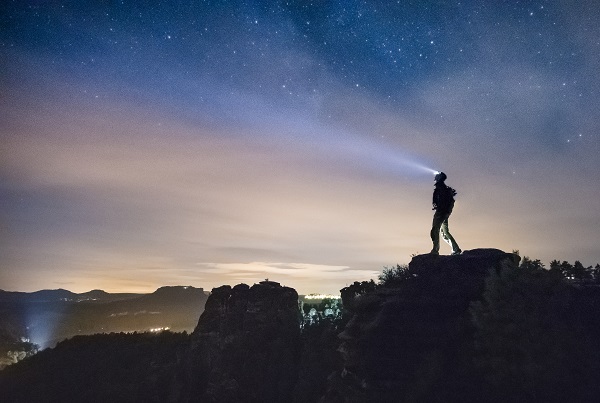 MoonWalker; Credit: step by step
Chronicle.lu recently had the opportunity to speak with Erich François, Founder and Managing Director of step by step SA (organisers of the ING Night Marathon Luxembourg), about a brand-new event in the Grand Duchy: UBS MoonWalker Luxembourg.
Less than three weeks have passed since the ING Night Marathon and step by step is already set for its next event, a hike under a full moon in Luxembourg City on Saturday 18 June 2022. This first event, sponsored by UBS, will take members of the public on a 10km, 20km or 50km night hike to experience the capital like never before.
Discussing the inspiration for MoonWalker, Erich François explained that he and his son had enjoyed hiking together, particularly in the dark, during the COVID-19 pandemic and that the experience had reminded him of his own childhood. "It's really amazing. You start smelling things that you never smelled before. Your senses open. Your senses change", he said. "You don't have your eyes anymore to see where you are. Suddenly you hear things, suddenly you smell things. Your feet feel things they didn't feel before because you have to sharpen your other senses. And we're not used to it anymore".
Whilst existing hiking events such as the Mega March (Megamarsch) and Mammoth March (Mammutmarsch) in Germany continue into the night, Mr François wanted to create an event which centres around night, giving it pride of place, much like the family night hikes of yesteryear. "I just wanted to bring back a part of childhood in a way", he stated.
The first MoonWalker event will take place in Luxembourg City this Saturday, with a second event scheduled to take place in Vianden on Saturday 10 September 2022. After that, the organisers plan to expand to Esch-sur-Alzette and gradually to Germany, France and Belgium from 2023.
Concerning the location for this first event, Erich François described Luxembourg City as "a home game, because we know everybody here […] because of the ING Night Marathon". Nevertheless, permission was needed, including from Luxembourg's Nature and Forest Agency. To convince the authorities of the value of such an event, Mr François had argued that "the normal people you find on the street know about the forest but they never go there and they never really experience it". MoonWalker aims to bring participants closer to the forest and to nature in general, allowing them to experience their surroundings through all their senses. "It brings you back to see how important forest is", he added. That being said, the different routes aim to combine forest with other settings in Luxembourg.
Different options are available to participants in terms of distance: the 10km "Venus" route, which is suited for families with children or anyone just wishing to try out the event, the 20km "Mars" route for slightly more experienced hikers and the 50km "Jupiter" route for "professionals". Concerning the latter, Erich François noted that this was certainly a very challenging option: "I'd say it's even harder than a marathon because it's at night and quite alone with yourself. Maybe you go with a friend, but it's not like going in a mass and the mass is pushing you". Those choosing the 50km option are advised to download a dedicated mobile application, such as Komoot, which tells participants when they leave the routes, and make sure they have charged their smartphones.
Along the first 20km of the hike in Luxembourg City, musicians and artists will be present, including a DJ in a hidden tunnel with a waterfall, as well as refreshment points.
In the context of the Ukraine war, the organisers, together with UBS, have decided to donate part of the registration fees to the Ukraine Relief Fund of the UBS Optimus Foundation. Mr François explained how his team had been planning MoonWalker since 2020, in the context of the COVID-19 pandemic (during which outdoor hiking events were possible), but kept postponing it as the time did not seem right. Then, when the pandemic seemed to have eased, Russia invaded Ukraine and step by step once again thought about postponing the event. "But this doesn't help Ukraine", explained Mr François. "What would help Ukraine is if we do something for them. If we talk about it, if we keep it in mind and if we try to support them". Ultimately, step by step reached out to UBS to see what they could do together to support Ukraine. And so, for each MoonWalker registration, UBS will donate €10 to the Ukraine Relief Fund (supporting organisations in Ukraine, Poland and Moldova). Participants have the option of donating an additional sum upon registration, with UBS matching all donations.
As for how many people the organisers are expecting at this first event, Erich François confirmed that they would close registration at 500 people. "It's a first event. It should be very exclusive, and I just want to see how it works", he explained, adding that future events will be "much bigger", potentially drawing up to 5,000 participants. He added that his "experienced" team typically spent one year preparing for the ING Night Marathon but managed to organise the MoonWalker event in the space of a couple of weeks.
"There's nothing like this [MoonWalker] in the world", Mr François concluded. "It's really a premiere and I wanted to start it in Luxembourg and from Luxembourg, spread it elsewhere".
The first UBS MoonWalker Luxembourg is now SOLD OUT. Details of future events will be available on the website: https://www.ubs-moonwalker-luxembourg.com/