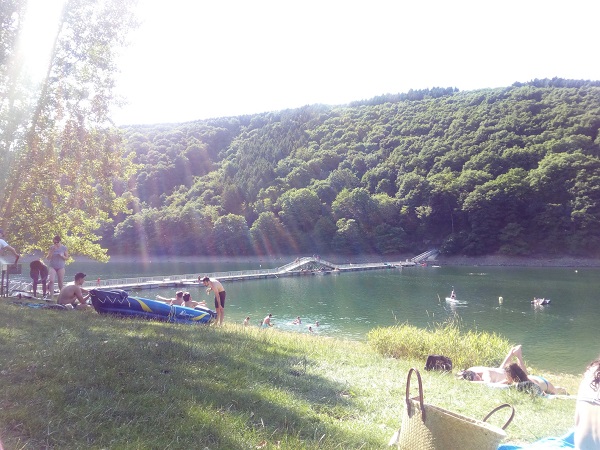 Upper Sûre Lake (Stauséi) in 2017; Credit: Jazmin Campbell
The Upper Sûre Nature Park has announced that reservations are no longer required for access to the Upper Sûre Lake, Luxembourg's largest drinking water reservoir and a popular spot for bathing and hiking in summer.
With the easing of the health situation related to the COVID-19 pandemic, visitors to the Upper Sûre Lake will no longer be required to make a reservation in advance for the 2022 season.
Visitors are advised to plan their travel to and from the Upper Sûre Lake in the most environmentally friendly way possible, for instance several buses serve this area such as line 535 Ettelbrück-Arsdorf, line 624 Wiltz-Boulaide and line 627 Wiltz-Liefrange. Moreover, the Stauséi-Navette (line 690) circulates free of charge every hour around the lake. As an alternative, the municipality of Esch-sur-Sûre is offering a free shuttle service called "Plage-Bus" on weekends (in good weather) and on public holidays. The shuttle transports visitors every 20 minutes from the car parks to the lawns of Fuussefeld, Frounbierg and Lultzhausen. For those coming by car, free parking is available in Insenborn and Lultzhausen.
The Upper Sûre Nature Park has also asked visitors to the lake to respect certain rules, namely: no littering; only set up barbecues in the places provided for this purpose; dogs are prohibited on all the beaches around the Upper Sûre Lake; no wild camping (prohibited throughout Luxembourg); no listening to music without headphones; parking is only authorised in the car parks provided for this purpose.
Moreover, the nature park is continuing to work on setting up a system of rescue points aimed at finding a person in an emergency situation more quickly thanks to a individual identifier on signs placed on busy paths or at crossroads.
Through the financial support of Luxembourg's Ministry of Energy and Spatial Planning, a team of rangers will again be present this year on the bathing beaches during the summer months in order to inform visitors, raise awareness and, if necessary, report any inappropriate behaviour. Mobile information teams will also be present on the lawns this season and will provide visitors with answers to questions concerning the lake and the region.