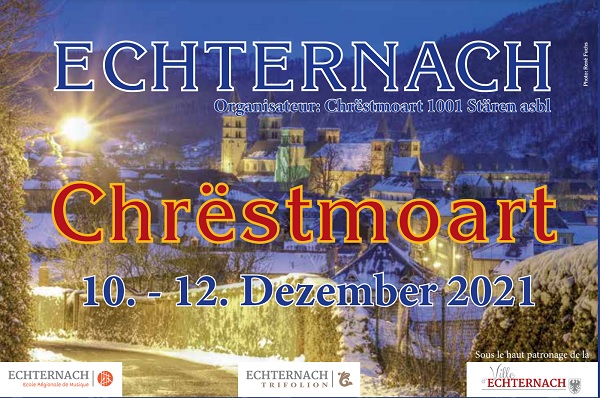 Credit: ORT Mullerthal
The Regional Tourist Office of the Mullerthal Region - Luxembourg's Little Switzerland has unveiled its festive winter programme for the region.
One of the winter highlights in the Mullerthal region is a visit to the Beaufort Ice Park, which offers ice skating, ice karting and ice hockey. The rink is open in compliance with CovidCheck rules, meaning that all guests over the age of 12 years and 2 months will need proof of of COVID-19 vaccination, recovery or a negative test. On-site testing is not provided. Further information is available at: https://icepark-beaufort.lu.
The long-awaited Christmas Markets also return next month, with the first in the region taking place at the Heringer Millen in Mullerthal from 3 to 5 December 2021. The market is open from 17:00 to 22:00 on Friday, from 12:00 to 22:00 on Saturday and from 11:00 to 18:00 on Sunday, with live concerts scheduled for Friday at 20:00 and Saturday at 18:00.
The Christmas Market in Echternach (Parking A Kack) is taking place from 10 to 12 December 2021. The market is open from 17:00 to midnight on Friday 10 December, from 10:00 to midnight on Saturday 11 December and from 10:00 to 20:00 on Sunday 12 December. Highlights include a Christmas cinema programme and concerts.
Admission to both markets is subject to the CovidCheck system.
Moreover, the Aquatower Berdorf offers visitors a panoramic view of the surroundings of Berdorf, near Echternach. More information, including opening hours, is listed on: https://www.aquatower-berdorf.lu/en.
Throughout winter, the Renaissance Castle in Beaufort is open to groups only, upon request. The Regional Tourist Office has suggested that visitors combine their guided tour of the castle with a winter hike in the surroundings of Beaufort. Suggestions are available in the sections "Hiking" and "Local hiking trails" on mullerthal.lu. Further information about the Beaufort Castles is available at: http://www.beaufortcastles.com.
Finally, Christmas gift ideas can be found on the Regional Tourist Office's online shop: mullerthal.lu. The website also displays the regional hiking map as well as tourist brochures.