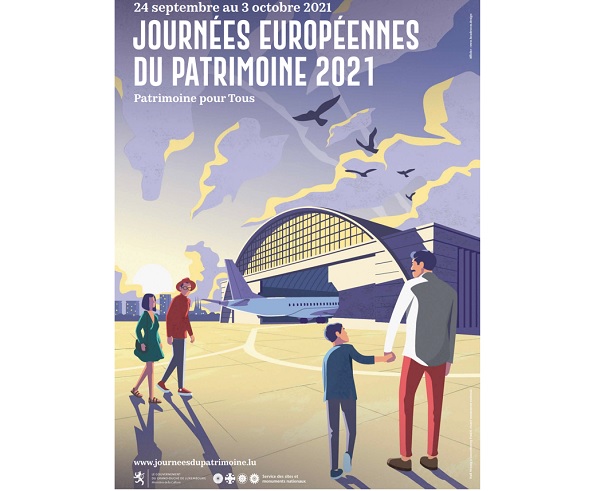 Luxembourg's Ministry of Culture has unveiled the programme for this year's European Heritage Days, which are taking place from Friday 24 September to Sunday 3 October 2021.
Under the theme "Heritage: All Inclusive" (Patrimoine pour tous), over 50 events and activities organised by 36 partners will focus on the accessibility of cultural heritage in Luxembourg. Routes suitable for everyone, discoveries and guided tours, workshops and educational kits will introduce a large and diverse audience to the richness of cultural heritage.
At a press conference on Monday, in the presence of the Director of the National Sites and Monuments Service (Service des sites et monuments nationaux – SSMN), Patrick Sanavia, and European Heritage Days Coordinator, Beryl Bruck, Luxembourg's Minister of Culture, Sam Tanson, emphasised the important awareness-raising potential of European Heritage Days: "With the forthcoming adoption by the Chamber of Deputies of the new law on cultural heritage, the protection and enhancement of the architectural, archaeological, movable and intangible heritage in Luxembourg will benefit from a modern and coherent legal framework. In any case, raising awareness of heritage and the values ​​it conveys remains a fundamental element of any effort to protect cultural heritage, and cross-border actions such as European Heritage Days make an essential contribution to this!"
English-language events in Luxembourg include: a virtual tour of the US Ambassador's residence (24 September to 3 October); an urban (heritage) sketching session (25 September); a guided tour of the Stade Thillebierg football stadium (25 and 26 September); a screening, lecture and art exhibition at the Home Pop-Up Art Museum (26 September); an art workshop with Robert Brandy (26 September and 2 October); a walk along the Casemates de la Cité Judiciaire (3 October); a conference on participatory renovation and industrial heritage (29 September); a guided tour of the Villa Gallo-Romaine in Schieren (3 October).
A joint initiative of the European Commission and the Council of Europe since 1999, European Heritage Days are the most widely followed participatory cultural events on the European continent. Up to 70,000 events (exhibitions, workshops, performances, guided tours, etc.) are organised each year to raise awareness among European citizens of the value of their common heritage and the need to preserve it for present and future generations.
Mariya Gabriel, European Commissioner for Innovation, Research, Culture, Education and Youth, commented: "Museums, archives, monuments and other sites highlighted by European Heritage Days are all riches to be shared and safeguarded. Technological advances are opening up possibilities for digitising cultural heritage and this digitalisation is becoming an essential means of identifying, preserving and promoting elements of heritage. The events organised locally for European Heritage Days give rise to cultural content, which is put online and which Internet users from all over Europe can use for educational purposes or in their work, or simply consult for pleasure".
The full Luxembourg programme is available online at https://www.europeanheritagedays.com/search?keywords=&type=event&ccode=29&from=&to=&month_datepicker_from=&month_datepicker_to=.