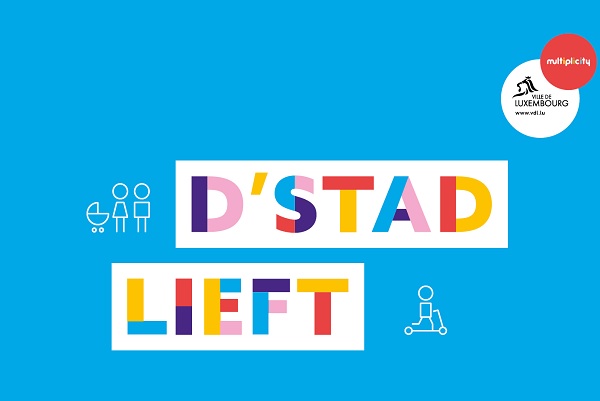 The Luxembourg City Tourist Office (LCTO) has unveiled this year's "Summer in the City" programme, which will run from 17 June to 12 September 2021.
Like the 25 previous editions, the 2021 programme consists of leisure activities, music, exhibitions, plays, shopping and many more cultural and tourist activities, all taking place on the territory of the City of Luxembourg.
Despite the range of activities on offer this summer, the traditional Schueberfouer, scheduled to run from 20 August to 8 September 2021, has once again been cancelled in the context of the COVID-19 pandemic.
The full programme (subject to change) is now available on summerinthecity.lu and is divided into the following categories:
Tourism
Exclusive guided tours of the Grand Ducal Palace, from 14 July to 1 September 2021 (up to seven tours per day in different languages). Tickets: online at luxembourg-city.com or at the LCTO tourist reception office in Place Guillaume II
Traditional guided tours (e.g. City Promenade, Circuit Wenzel or City Promenade for Kids) offered by the LCTO. More information: luxembourg-city.com
Special thematic guided tours offered occasionally by the LCTO
"Walk the Art" guided tours offered by Villa Vauban
"Promenade médiévale" (medieval promenade) and "Wasser, Quell des Lebens" (water, source of life) guided tours offered by the Lëtzebuerg City Museum
Other means to discover the capital, e.g. the "Pétrusse Express", "Hop-on Hop-off" buses or a guided tour with an autoguide by bicycle
Music
"D'Stad lieft 2021" live concert series. Further information: summer.vdl.lu
"Gudde Wëllen Open-Air" concerts at the Amphitheatre of Fonds Kirchberg, from 17 to 23 June 2021, as part of the Fête de la Musique
"Music around the city" - Afrobeathoven, an ambulatory group, will travel through the Dommeldange, Mühlenbach, Weimerskirch, Beggen and Eich districts with an open-air bus on 20 June 2021 as part of the Fête de la Musique
"Bock op… méi intim" festival on the forecourt of Neumünster Abbey (Luxembourg-Grund), from 26 June to 25 July 2021
"Congés annulés" festival at Rotondes (Luxembourg-Bonnevoie), from 23 July to 26 August 2021
"Pond Eclectic" at the Amphitheatre of Fonds Kirchberg, from 5 to 8 September 2021
"Lëtz Phil…": a series of concerts offered by Philharmonie Luxembourg
Exhibitions
Ratskeller Exhibition Space (Rue du Curé) will host exhibitions such as "Des gens et des rues - 100 ans Pol Aschman" (people and streets - 100 years of Pol Aschman)
Lëtzebuerg City Museum will host its permanent exhibition "The Luxembourg Story - plus de 1000 ans d'histoire urbaine" (The Luxembourg Story - over 1000 years of urban history), as well as the temporary exhibition "Gleef dat net...!" (don't believe that) and a specific programme for families and children
Musée Dräi Eechelen will present its new exhibition "Légionnaires - Parcours de guerre et de migration entre le Luxembourg et la France" (legionaries - war and migration routes between Luxembourg and France)
Villa Vauban will host its new permanent exhibition "Une promenade à travers l'art" (a walk through art) and is putting together a specific programme for families and children: "Villa Plage"
Mudam - The Grand Duke Jean Museum of Modern Art will present its current exhibition "William Kentridge - More Sweetly Play The Dance"
National Museum of History and Art will present the exhibition: "Robert Brandy face à lui-même" (Robert Brandy facing himself)
Naturmusée - National Museum of Natural History will host the new exhibition "Biodiversity in Focus"
Casino Luxembourg - Forum d'art contemporain will present the exhibitions "Triennale jeune création 2021 - Brave New World Order" (triennial youth creation) and "Laby-food" at Parc Central du Kirchberg
Garer Art Festival 2020+1 will take place in the Luxembourg-Gare district
Theatres
Grand Théâtre is offering a varied programme with, for example, "Elisabeth Schilling - Hear Eyes Move. Dances with Ligeti" on 1 July 2021
Théâtre des Capuchins will present, among others, "The Quest" on 9 July 2021
Den Atelier will host "Terres arides" (arid lands) by Ian De Toffoli on 11 September 2021
The Amphitheatre of Fonds Kirchberg will host its "Rendez-vous théâtral joyeux au carré blanc" (joyful theatrical meeting at the white square) on 15 September 2021
Shopping / HORESCA
Summer sales from 26 June to 24 July 2021
Shops open on Sundays 27 June and 4 July 2021
"We ride - second hand bike market" at Rotondes on 9 July 2021
"Yumm festival", a street food festival in Place de l'Europe on 14 July 2021
"Aire des Rotondes - L'étape gourmande de l'été (Aire des Rotondes - the gourmet summer stopover) on 21 August 2021
Discover new terraces as well as a rich and varied catering offer
IAMBAG, a philanthropic project, initiated by the LCTO, which includes the sale of unique pieces of upcycled shoulder and backpack bags based on advertising tarpaulins. More information: iambag.lu.
Other activities to enjoy in the capital this summer include going to the many parks and green spaces, taking children to playgrounds, visiting the Pétrusse Skatepark or going for walks through Bambësch, Hamm or Kockelsheuer.