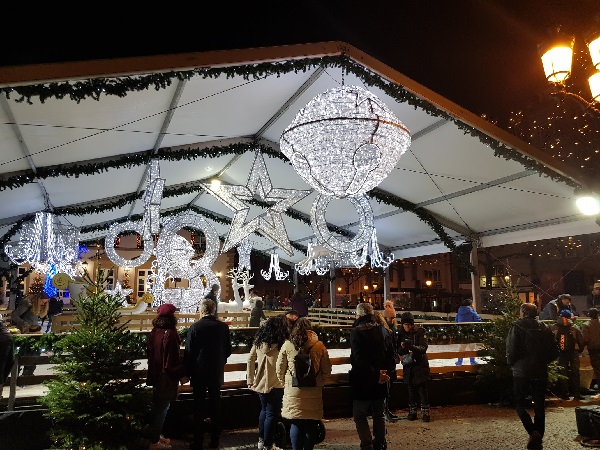 Ice rink at Christmas market in Place Guillaume II; Credit: Jazmin Campbell
The City of Luxembourg confirmed today that the capital's Christmas markets are set to go ahead this year, albeit in a format adapted to the context of the COVID-19 pandemic.
On Wednesday 14 October 2020, Lydie Polfer, Mayor of Luxembourg City, Serge Wilmes, first alderman, and Patrick Goldschmidt, the alderman responsible for festivals and markets, presented details of the Winterlights 2020 programme. The festive programme will run throughout the capital from Friday 20 November 2020 to Sunday 3 January 2021 in an adapted format and in compliance with the measures taken in the fight against the spread of coronavirus.
The layout of traditional sites has been completely revised in order to be able to implement the health measures in place. For instance, food and drinks can only be consumed whist seated and take-away will not be available, with the exception of certain products such as sweets and chocolate-covered fruit. Visitors to the markets will not be allowed to bring their own food or drinks onsite. Hand disinfection prior to accessing the sites is compulsory, as is wearing a mask that covers the nose and mouth at all times, except for children under 6 and whilst seated.
For the duration of the Winterlights programme, Luxembourg City and its 24 districts will be decorated with festive lighting which will be switched on every day from 06:00 until 01:00. The Christmas markets will be open every day from 11:00 until 21:00 and until 22:00 on Fridays and Saturdays. The markets will be closed exceptionally on 24 and 25 December 2020.
The Christmas markets will be held at the following locations: Place d'Armes; Place de la Constitution; Place du Théâtre; Puits rouge; Place Royal-Hamilius; Grand-Rue; Rue de Strasbourg.
The ice rink will return to Place Guillaume II, although its layout has been revised; in order to allow greater physical distance, the surface of the ice rink will be enlarged.
Due to the current situation, concerts and other traditional events at the kiosk in Place d'Armes will not take place. Instead, the City of Luxembourg is considering organising such events in accordance with the COVID-19-related measures in place.
Throughout the Winterlights period, the bi-weekly market will take place as usual on Place Guillaume II, on Wednesdays and Saturdays from 08:00 until 14:00.