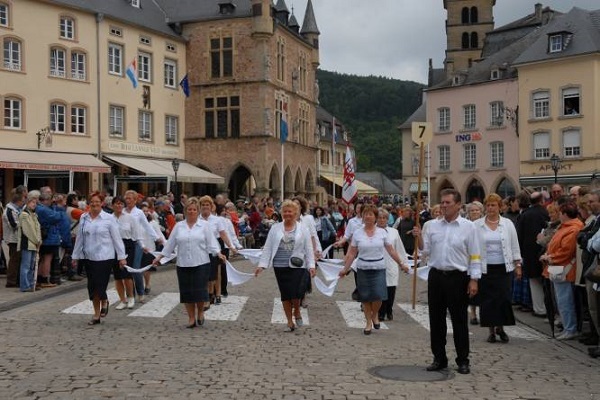 In light of the ongoing COVID-19 pandemic, Luxembourg's traditional Echternach dancing procession (Sprangprëssessioun) will be held online this year from today, Friday 29 May 2020.
This year, none of Luxembourg's four registered national intangible history traditions (Echternach procession, Octave, Éimaischen and the Schueberfouer), can take place in the usual way. In order to keep these traditions alive during the current context of uncertainty, Luxembourg's Ministry of Culture and the Luxembourg Commission for UNESCO have opted for a digital presentation of these festive events.
After "Digital Éimaischen" and "Digital Octave", they will stage a digital version of the dancing procession of Echternach. The partners for this project are the Willibrordus-Bauverein, the City of Echternach, the Archdiocese, the CNA and RTL Zwee.
From 29 May onwards, videos and photographs, online tours and little-known facts about the dancing procession will be online on the website of the Intangible Cultural Heritage Luxembourg (www.iki.lu) and the social media channels of the Luxembourg Commission for UNESCO. Since this is a living, interactive project, personal photos and souvenirs can be shared with the hashtags #DigitalIKI and #DigitalSprangprëssessioun.