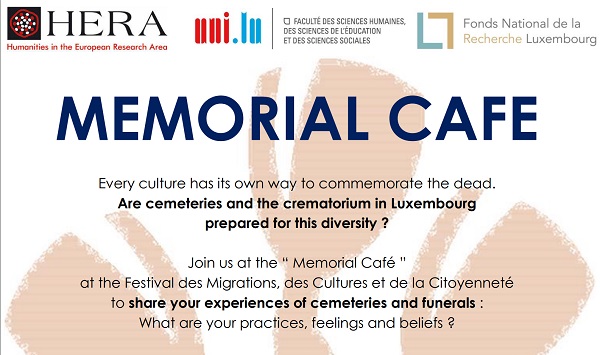 The University of Luxembourg has announced that it is co-organising a "Memorial Café" as part of the Festival des Migrations, des Cultures et de la Citoyenneté; this is a series of thematic discussions on the cemeteries and crematoriums of Luxembourg City in the face of the diversity of funeral practices, taking place on 29 February and 1 March 2020 at Luxexpo the Box in Kirchberg.
Every culture has its own way to commemorate the dead. Are cemeteries and the crematorium in Luxembourg prepared for this diversity? The Memorial Café is an opportunity for the public to share their experiences of cemeteries and funerals in an informal setting, for instance over coffee, tea and cookies. Children are also welcome to join.
The public is welcome to join these discussions at any time, throughout the festival. They can also join, upon registration, a thematic discussion on funerary practices, including discussions in English on Saturday 29 February (Christian Orthodox funerary practices) and on Sunday 1 March 2020 (Global funerary practices), both at 16:30.
The public is also welcome to participate in a creative workshop with artist Justine Blau on Saturday 29 February at 19:00 (in English, French and Luxembourgish).
Places are limited, so (free) registration is desired.
To register for the thematic discussion, email sonja.kmec@uni.lu. For more information, visit www.cemi-hera.org or see the Festival programme at: https://www.clae.lu/festival/festival-des-migrations/.