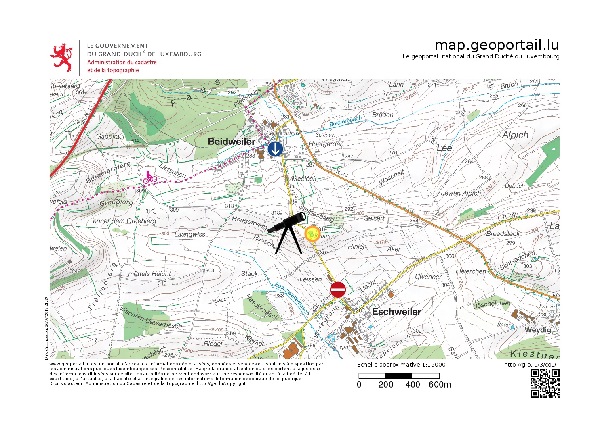 Location; Credit: Geoportail.lu; MNHA
The National Museum of Natural History (MNHN) and the Amateurs Astronomes du Luxembourg will be hosting a public viewing of the upcoming Perseid meteor shower, taking place on Monday 12 August 2019 at the Saint-Donat chapel between Beidweiler and Eschweiler, from 22:00.
Between 10 and 15 August 2019 (peaking in the night of 12-13 August), shooting stars (ie comet dust) will once again light up the skies; on this occasion, the public will be able to observe Perseids, named after the Perseus constellation from which they appear to originate. Every year, in August, when the Earth crosses the orbit of the Comet 109P Swift-Turtle, comet dust penetrates the atmosphere at a speed of 70 km/s and is consumed by friction. Larger grains of dust are visible in the sky. Viewers will also have the chance to observe stars and visible planets.
This public viewing will take place at the Saint-Donat chapel between Beidweiler and Eschweiler (next to the water tower, N49.72284 E6.30441) near Junglinster from 22:00 on 12 August (weather permitting). It should be noted that the site will only be accessible from Beidweiler. For safety reasons, the road from Eschweiler will be closed to traffic.
Since such a natural phenomenon can last a long time, it is advisable to dress warmly. Hot drinks and folding chairs are also advisable and additional telescopes are welcome.
The organisation of the event will be confirmed on the website (mnhn.lu) and Facebook page of the National Museum of Natural History (@naturmuseelux), the same day from 15:00.