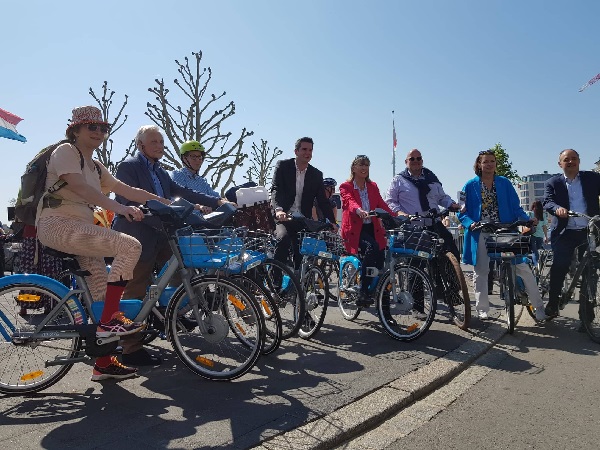 Credit: Jazmin Campbell
Following the launch of the Luxembourg tourism season this morning, politicians and the press gathered in Place de la Constitution to inaugurate the UNESCO Bike Tour "Luxembourg, old neighborhoods and fortifications".
On this sunny Friday afternoon, Lydie Polfer, Mayor of Luxembourg City, Minister of Culture Sam Tanson, Minister of Tourism Lex Delles and Simone Beck, President of the Luxembourg Commission for Co-operation with UNESCO, presented a new touristic-cultural activity: the UNESCO Bike Tour through the Grand Duchy's capital.
In the words of Simone Beck: "The 9.5 km route through this World Heritage Site crosses the Petrusse Valley, the Grund, Clausen and Pfaffenthal districts while introducing visitors to some 80 sites, monuments and often unsuspected attractions. The itinerary familiarises the public with the criteria that made it possible to include Luxembour City in the World Heritage Register."
More specifically, the bike tour follows a route along nine reference sites, starting at Place de la Constitution and passing Villa Pauly, the Petrusse Park, Grund, Clausen, Odendahl Park, Pfafenthall, the Pfafenthall lift and the Grand Théâtre and ending in the City Park. Along the way, cyclists can enjoy views of the Notre Dame Cathedral, Casino Luxembourg - Forum of Contemporary Art, Neimënster, Villa Vauban - Museum of Art of the Ville de Luxembourg, the Synagogue and Mansfeld Park, to name but a few key sites.
According to Culture Minister Sam Tanson, the bike tour developed in collaboration with twelve partners, "completes the UNESCO Walk through the Ville Haute presented in 2018 and represents an ecological way to explore the city."
Following the presentation of the bike tour, dozens of people participated in the inaugural tour on vel'OH! electric bicycles. Lydie Polfer highlighted the presence of the fourteen vel'OH! rental stations (open 24/7) that punctuate the bike route and thus facilitate this new tour.
The route is available as a map, complete with information in five languages ​​(English, Luxembourgish, French, German, English and Dutch), and is hoped to attract both tourists and residents to explore this World Heritage site by bike. The map is available for free at the Luxembourg City Tourist Office (LCTO) as well as via the applications Izi-Travel, komoot.com and Spoticle.lu. It can also be downloaded on the websites www.unesco.lu, www.geoportail.lu (tourism section), www.visitluxembourg.com and www.luxembourg-city.com, as well a from the Opendata portal of the Ministry of Culture.