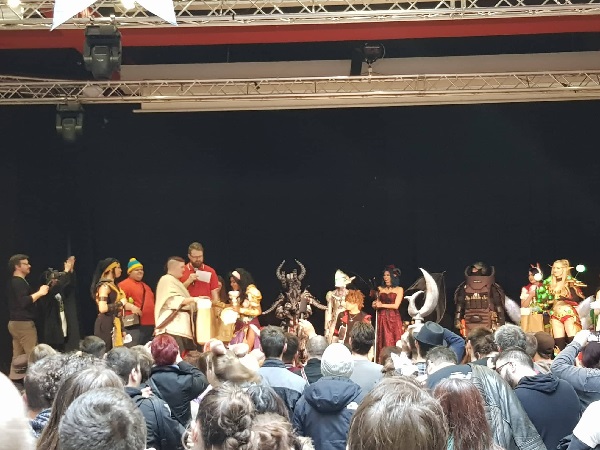 First place for best performance and costume went to Esmeralda; Credit: Jazmin Campbell
This past weekend saw Forum Geesseknäppchen in Luxembourg-Merl host the sixth edition of LuxCon, a convention dedicated to sci-fi and fantasy fans, geeks and nerds.
Organised by the Science Fiction & Fantasy Society Luxembourg, this year's convention once again offered visitors the chance to celebrate their favourite books, comics, shows, games, films, etc. in the realms of Science Fiction, Fantasy and Horror.
The first day of the convention, on Saturday, featured a jam-packed programme from vendors selling fan merchandise and "fanzones" dedicated to Star Trek, Harry Potter and Netflix to the sixth annual LuxCon pub quiz, a karaoke party and a literary slam. On the first floor of the forum, there were also different activities, games and workshops held in various rooms, as well as a "kids' corner" and readings and interviews with authors such as Elizabeth Bear (Nebula and Hugo Award winner), Scott Lynch (British Fantasy Award and Prix Imaginales winner) and Judith C. and Christian Vogt (German Fantastic Award and German Roleplaying Game Award winners).
On Sunday, thousands of fans gathered for another day of games, workshops and purchases. The fanzone was alternately dedicated to Game of Thrones, Doctor Who and Star Wars, among others. In addition, the second and final day of the convention featured the popular Cosplay contest, preceded by a Cosplay showcase. The competition saw several fans dress up as their favourite characters or their own interpretations of these characters to be admired by the audience and judged by a selected jury.
This year saw the likes of Sheldon Cooper and Amy Fowler (Big Bang Theory) and a very popular female Loki (Thor) take to the stage, as well as characters from Kingdom Hearts, League of Legends and Call of Duty. The first prize winner for best costume and best performance this year went to Esmeralda (Hunchback of Notre Dame), who danced to songs from the Disney film and, to the joy of many fans, threw her tambourine for the jury members to catch.
A charity auction concluded the 2019 edition of LuxCon, leaving fans to wait another year for the return of this ever-popular convention.