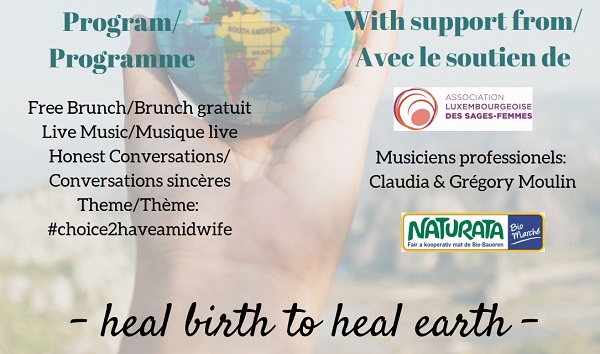 Credit: Luxmama
Luxembourg NGO Luxmama Club & ParentPrep asbl is organising the first "Birth Culture Brunch" in Bereldange, Luxembourg, taking place on 11 May 2019 from 11:00-15:00.
As part of the Human Rights in Childbirth and Perinatal Mental Health Awareness pillars at Luxmama, the NGO has emphasised the importance that current birth culture plays in health, well-being and mental outcomes for the birthing family. Birth has deep-rooted consequences for individuals and societies as early experiences create
life-long patterns and even trans-generational influences.
Birth Culture Brunch is a free awareness event by the NGO Luxmama Club & ParentPrep asbl, a grass-roots organisation that believes it is time to plant positive seeds of change, because birth and choice in birth matter.This is not least true today, with risky medical interventions (and obstetric violence) in birth soaring way above WHO
recommendations, lack of evidence-based choices for birthing families and disempowered midwives due to inequality in the current system. The event will thus question the
sustainability and ethics of the status quo in Luxembourg.
The bilingual (English and French) event will bring together sustainable, organic food for a free spring brunch and LIVE piano and voice performances by renowned professional musicians. To create the right atmosphere for honest conversations, the Birth Culture Brunch will celebrate the International Day of the Midwife (5 May), International week of Respecting Childbirth (13-19 May) and the launch of Luxmama's awareness campaign #choice2haveamidwife.
Participants can also choose from a free drink (including organic non-alcoholic beverages).
As limited spots are available, registration is required at www.luxmamaclub.com/birthculturebrunch.