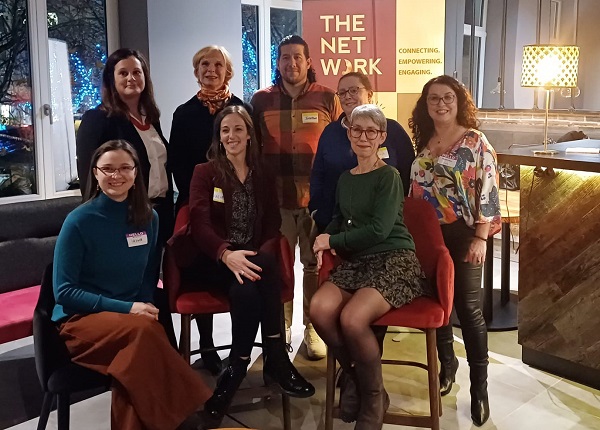 Credit: The NETWORK
On the evening of Wednesday 15 November 2023, The NETWORK held an event at QoSQo in Luxembourg-Ville dedicated to moving forward after being decoupled, i.e. after a divorce or breakup.
The evening kicked off with the traditional audience pitching sessions and an introduction by The NETWORK's President Mariana Florea, who touched upon the different stages of a relationship - and Luxembourg's high divorce rate (about 80% in recent years).
The main event was a panel discussion, moderated by Anne-Claire Delval and featuring the following guest speakers, who offered their advice on preparing for the worst and moving forward after decoupling: yoga instructor Laura Eyer spoke about self-care and stress-management; lawyer Julie Durand addressed divorce and family law; legal and regulatory expert Marianne Bernou looked at financial intelligence and independence; Jonathan Pereira Neves, coordinator and legal advisor at ADEM, spoke about the new law facilitating the recruitment of third-country nationals in Luxembourg; Claudia Neimeister, founder of Luxdates, discussed matchmaking and dating again after being decoupled.
Among Laura's tips for managing stress, particularly during challenging times like a divorce or separation but also in one's everyday life, was being present in the moment (mindfulness) and remembering that "nothing is permanent". She described divorce / decoupling as grief and recalled that "no one grieves in the same way". Practical exercises included regular belly breathing and making (even just a little) time each day for self-care.
Julie outlined the current procedure for obtaining a divorce in Luxembourg, noting that a law change in November 2018 simplified and accelerated the process: today, one can have a first audience within six weeks of submitting the divorce petition. However, decisions concerning children (custody, alimony, etc.) can take much longer and the process can have a significant impact on the children involved. The division of assets can be an even more complicated and lengthy procedure.
Marianne stressed the importance of maintaining one's independence, particularly financially, when in a marriage or another relationship. She described the fairytale romance as a myth and focused on the practical aspects of a relationship, emphasising the need to talk about money early on. She recommended keeping one's own account and savings (separate to a shared account with one's partner). She recalled that there is often an income gap in relationships, with women typically carrying out more unpaid work than men (i.e. around the house), so each person should only contribute "up to their financial capacity".
Jonathan presented a recent law change, applicable since September 2023, which offers family members of third-country nationals (and who are themselves third-country nationals) unrestricted access to Luxembourg's labour market (no work permits). He noted that this made it easier for people to find a job and be independent. Asked about the potential residency-related consequences for a third-country national family member (or accompanying spouse) after a divorce or separation, Jonathan confirmed that the objective in Luxembourg was not to take away residency rights so the authorities "always try to find a solution". He advised that anyone in such a situation reach out to the Directorate of Immigration for support.
Claudia then delved into the world of dating again, noting that step one was finding out who you are by taking into account five key values: money, children/childcare, spiritual belief, career and personal health. One can then look for a partner with similar values. She recognised that there is often bitterness surrounding a divorce and suggested acceptance and taking ownership (to an extent) as a means to heal and move on. She agreed with earlier speakers that fairytales do not exist, recalling that marriage is ultimately a contract, although finding love (again) is always possible.
A lively question and answer session later ensued, during which the speakers addressed questions delving deeper into self-care and the legal aspects of divorcing in Luxembourg, particularly concerning the rights of children. The discussions continued among the 30 or so attendees (including a few men) as they networked over hot finger food and drinks.