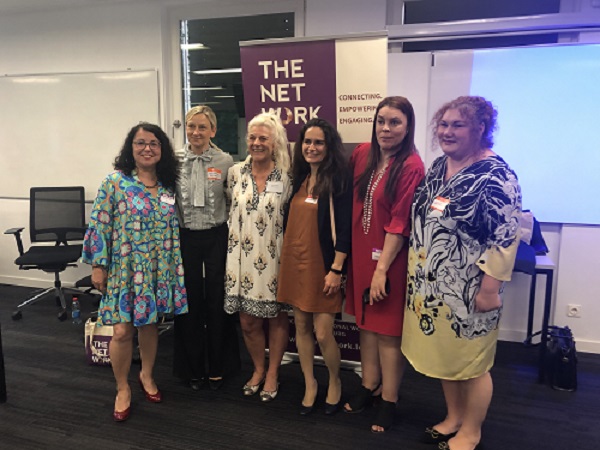 (L-R) President Mariana Florea, Agnieszka Parisse, Esther Celosse, Camelia Craciun, Carolina de Leon Brooks, Gabriela Nguyen-Groza; Credit: Otilia Dragan/Chronicle.lu
On the evening of Wednesday 21 June 2023, Luxembourg-based international professional women's association The NETWORK organised an event dedicated to "Navigating your Career" at Luxembourg School of Business (46 Côté d'Eich, 1450 Luxembourg).
The event was aimed at anyone looking to start a new career, return to work after a break or make a career change. It took the form of a panel discussion, moderated by Carolina de Leon Brooks, recruiter at the Luxembourg Institute of Science and Technology (LIST), and featured the following panellists: Esther Celosse, founder of Return2Career; Camelia Craciun, CEO and headhunter at Proferens Headhunting & HR Solutions; Agnieszka Parisse, partner at Anderson Wise; Gabriela Nguyen-Groza, founder and managing partner at Amrop Luxembourg.
Following a short introduction by The NETWORK President Mariana Florea and two pitches by audience members, the discussion started with an exchange about diversity and inclusion concerning the current talent crisis. Regarding the management of "human capital", Esther Celosse noted that businesses need diversity if they are to attract more people. A diverse workforce, she noted, meaning different ages, genders, backgrounds and education, etc., acts "like a magnet" to add to overall workforce satisfaction and growth. Agnieska Parisse added that certain companies are unable to commit their internal resources and "accompany the transition or make room for the people transitioning".
Focusing on a job transition, the panellists went on to discuss clarity in candidate's expectations and agreed it was one of the key elements of a successful career shift process. "What do you want to change to?" is the main question to keep in mind, alongside the list of what one does not want anymore in a future job, but also what one would like to keep. Gabriela Nguyen-Groza discussed the five stages of her career shifts so far, and in each case clarity on the "why", "what" and "when" and making a list of potential companies at which to work helped – a process which, she stressed, should be approached as a full-time job for oneself. Agnieska added that strategy must come before research and that a career transition may require testing the market, getting additional qualifications or having a "bridge" job. They agreed that compromises in time, energy and/or money may be required for a career switch. The entire process of looking for a job ought to be treated as a project manager would treat it, they stressed.
When discussing job applications, the panellists had a wealth of tips and information to impart. They particularly stressed the importance of tailoring cover letters and CVs to the position, as most companies keep the files for a number of years. Esther noted that even if applying for different positions at the same company, every application should be designed to match the profile as closely as possible. The speakers agreed one can make artificial intelligence (AI) work for oneself, as companies use AI to filter out profiles. Using the key words from the advertisement, doing careful research about the company and being honest in one's CV is crucial, however. One needs to be able to explain the logic of one's career to sell oneself, they added.
Considering the skills often (stereotypically) associated with women, the panellists noted that while women and men cannot be "put in a box," certain trends exist and can work in the favour of women. Women tend to be skilled storytellers and good communicators, and emotional intelligence and active listening skills are "necessary for business". Showcasing them in an interview is a way of proving one can add value to a company. Women tend to undersell themselves, however, Gabriela noted. She advised women to focus on what they can offer a company. The panellists agreed it is important to take advantage of the fact that there is "momentum for diversity".
They also highlighted the importance of networking, seeking mentorship or coaching and other types of support. Whether by seeking out alumni here in Luxembourg, using Meet Up and LinkedIn to meet like-minded people or asking someone for career tips, successful individuals will often be open to helping others, especially in a small country like Luxembourg, the panellists said. This process is not about "using" people, but about mutually beneficial exchanges and forging connections and learning more about getting to where one aspires to go.
The event concluded with a networking reception.