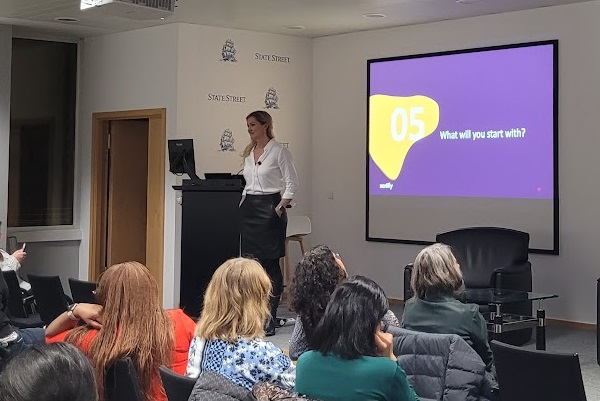 Credit: Jazmin Campbell
On Wednesday evening, Luxembourg-based international professional women's association The NETWORK held a personal development event called "Discover Your Power" at State Street in Luxembourg-Kirchberg.
During this sold-out interactive event, Sophia Karlsson, business development and human experience management consultant at Luxembourg tech company Zortify, offered attendees (about 40 in total, most of whom were members of The NETWORK) an overview of different working styles and behaviours, according to the "DISC" personal assessment tool. Participants then learned how to build on their natural strengths, whilst becoming more self-aware (e.g. aware of any limitations and blind spots).
DISC is an acronym that stands for the following four main personality profiles: D stands for dominance, I for influence, S for steadiness and C for compliance (or conscientiousness). As Sophia explained, people with D personalities tend to be extroverts who are results-/goal-oriented; people with I personalities tend to be innovative and open and enjoy influencing and persuading others; people with S personalities are more dependable and people-/team-oriented; people with C personalities tend to be analytical and focus on the details and accuracy. Sophia explained that most people are a mix of these personality styles, although one or two styles might stand out more depending on the individual.
She noted that each personality style has its own strengths upon which people can build (and weaknesses of which they should be aware): D personalities are self-starters and goal getters who challenge the status quo and get results (their biggest fear is losing control); I personalities are creative problem solvers who are good at resolving conflict whilst motivating others to achieve their goals (their greatest fear is rejection); the more introverted S personalities are real team players and great listeners (relationship builders) who genuinely care about others (although they can be possessive as their biggest fears are conflict and change); C personalities also tend to be introverted but are more task-oriented than people-oriented, they are analytical, creative thinkers who gather and test information (their greatest fear is making mistakes).
In all cases, "self-awareness is so important," stressed Sophia, particularly regarding one's weaknesses and blind spots and the impact of one's behaviour on others.
She went on to discuss entrepreneurial capital, which reflects the value of an individual or team's future entrepreneurial behaviour. Here she focused on self-efficacy, resilience and optimism and offered attendees practical tips and examples of how to train these areas, starting now.
Sophia concluded by emphasising the importance of embracing rather than trying to change one's personality, whilst being self-aware, and improving one's entrepreneurial capital.
The evening concluded with networking over drinks and snacks.