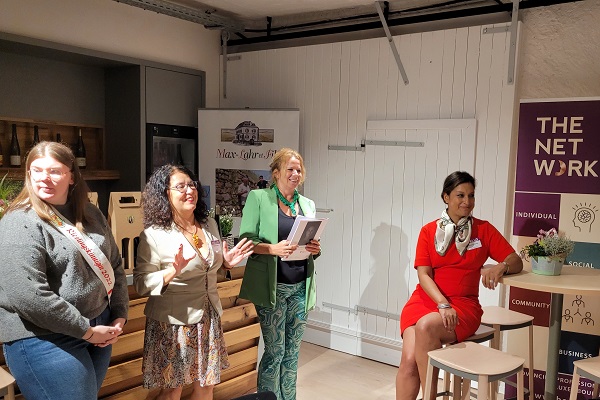 L-R: Céline Max, Riesling Queen; Mariana Florea, President of The NETWORK; Andrée Birnbaum, Director General of Femmes en Détresse asbl; Christine Hansen, Events Director at The NETWORK; Credit: Jazmin Campbell
On Wednesday evening, the NETWORK, Luxembourg's oldest international professional business women's association, welcomed back its members after the summer break with a wine tasting fundraiser at Max-Lahr et Fils Vineyard in Wormeldange.
Organised with the support of Madi.lu, an online magazine for women in Luxembourg, and Max-Lahr et Fils Vineyard, this wine tasting event allowed about 30 guests to experience the best offerings from this traditional family-run vineyard, served with snacks, and all for a good cause: to raise money for The NETWORK's chosen charity this year, Femmes en Détresse asbl.
Céline Max, the freshly crowned Riesling Queen whose family runs Max-Lahr et Fils Vineyard, led the guests on this wine tasting journey, which saw them socialise and network over glasses of Crémant de Luxembourg brut rosé GOLD, Pinot Gris Vogelsang (2020) and the special Queen Auxerrois (2020), created by Céline's father in her honour, and Queen Riesling Palmberg (2020). Guests could also enjoy bread with cheese and charcuterie, as well as a Pinot Noir rosé (2020) and the ever-popular dessert wine Charta Gewürztraminer (2019).
Speaking at this event, Andrée Birnbaum, Director General of Femmes en Détresse asbl, explained that the non-profit was created in 1979 to support women who are victims of domestic and sexual violence. The non-profit set up a first women's shelter for victims of violence in 1979 but quickly realised this was not enough. At present, the non-profit comprises a team of 110 people (mostly women) and offers fourteen services, including three shelters (two for women and one for young girls), counselling centres for victims of domestic violence as well as for single mothers, specialised psychosocial support for victims and an assistance service for victims of human trafficking (men and women). Andrée noted that the COVID-19 pandemic (and related lockdowns) had worsened the situation for a lot of victims.
The evening continued with pitches by two members of The NETWORK: Esther Celosse, who recently set up a new business aimed at matching companies looking for talent with jobseekers looking to return to work after a career gap, and Anne Lommel, a local food, event and travel photographer.
Céline Max, who was recently crowned Riesling Queen, then presented her family's vineyard and the selection of crémants and wines on offer that evening. She explained that the six-hectare vineyard had been in her family for seven generations. They produce about 50,000 bottles of wine every year. Céline added that the municipality of Wormeldange is known as the Riesling municipality because this is the most-grown grape in the region. She also presented the criteria to become a Riesling Queen, i.e. one must be at least sixteen years old, live in the municipality, ideally come from a winegrowing family and be willing to commit to the role for four to five years (first Princess, then Queen).
At the end of the wine tasting, the guests could place an order for bottles or boxes of their favourite beverages of the evening. The NETWORK has pledged to donate 50% of the profits of all purchases during the event to Femmes en Détresse asbl.