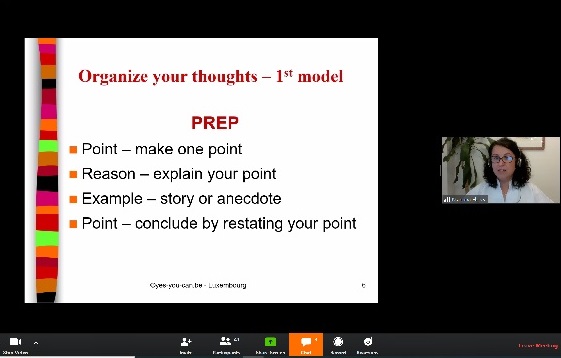 Mariana Flores discusses the acronym PREP via Zoom;
On Wednesday evening, The NETWORK, Luxembourg's oldest international professional women's association, held its second online event (following the AEGM in March) since the start of the COVID-19 confinement period.
The event, held via Zoom, consisted of three confidence boosting talks by Jill Saville, Sarah Battey and Mariana Flores respectively on the theme "BE BOLD". Over 40 participants tuned in for this digital confidence-boosting event.
The NETWORK President Marie Louise Ashworth opened the event with a message of support for anyone struggling with isolation and recalled that attendees and members could contact The NETWORK to be put in touch with coaches or mentors for support. Marie Louise went on to discuss how The NETWORK has been adjusting to the new digital "normal" and has adapted its event calendar accordingly up to September 2020. The President's introduction concluded with a round of applause for healthcare workers.
The first speaker of the evening was Jill Saville, a Professional Certified Coach with over 30 years' experience managing and leading people in the UK public sector. In her presentation, Jill discussed how to exercise the power of one's mind and overcome one's fears in order to be bold. Explaining how our habits and way of thinking has been conditioned from a young age, she addressed the question of whether humans truly have free will. Regarding confidence building, Jill discussed the need to be aware of these internal "scripts" that tell us we can or cannot do or be something and then reprogramme our subconscious. In order to achieve this, Jill offered four main tips: decide what to change and commit to it; visualise the goal; regularly practise saying "I am…" plus a positive trait (until the subconscious believes it); and build new habits of thinking. She concluded by emphasising that preparation is key, i.e. pre-plan in order to form this new habit that can be done anywhere.
Next up was Sarah Battey, a psychologist and certified systemic coach, who examined the power of the unconscious conversation. Using a more interactive form of presenting, Sarah began by explaining that over 90% of communication is non-verbal and this can give the impression of someone being powerful or powerless. Once aware about this unconscious bias, it is possible to exploit it. Looking at the ways in which we can project presence, confidence and authority, Sarah gathered ideas from the audience and offered her own tips, namely related to posture, eye contact, use of space, use of hands, smiling, leaning in and attitude. On the subject of remaining composed under pressure, she encouraged attendees to find their own style of presenting or talking, practising (without learning by heart), anticipating difficult questions and preparing responses, remembering to breathe and speaking slowly, adding that nerves will pass during the presentation or conversation.
Last but not least, Mariana Flores, a distinguished toastmaster and The NETWORK's outgoing treasurer, offered hints, tools and tips for thinking on one's feet. She first stressed the importance of organising thoughts, articulating ideas when in the spotlight and ensuring that delivery effectively supports the message we try to get across. Engaging with volunteers in a mock networking and job interview scenario, Mariana explained how to give a good answer to questions that may require thinking on the spot. Some examples included basing answers on the acronyms PREP (Point – Reason – Example – Point) and FAT (Feel – Anecdote – Tie back in). She added a third acronym that can help with the articulation of ideas: KISS (Keep It Short and Sweet). In response to questions from the audience, Mariana encouraged audience members to practise for a presentation at home or in another safe environment and warned against apologising or rushing into an answer. She stressed that it is perfectly fine to ask to hear the question again and take time to think about an answer.
The BE BOLD event concluded with a digital networking and feedback session via Zoom chat boxes.