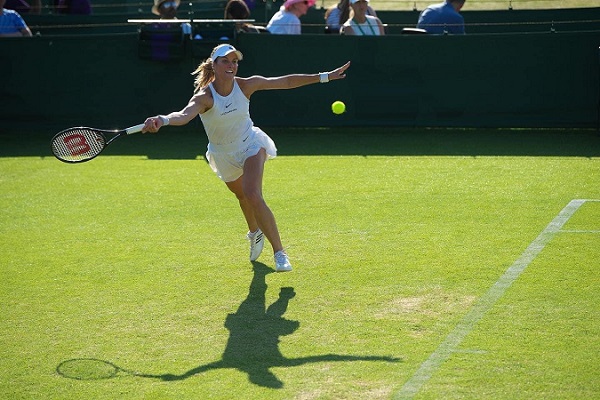 Following her recent announcement that this year's Wimbledon, one of tennis' four Grand Slam tournaments, would be her last as a professional player, Luxembourg's Mandy Minella crashed out of the qualifying rounds of the Ladies Singles on Friday, denying her the opportunity to be included in the main draw for one last time.
36 year-old Mandy Minella hails from Esch-sur-Alzette and is currently ranked #260 in the world by the WTA (she reached a high of #66 in September 2012).
In the first qualifying round, she was up against 29 year-old Na-Lae Han of South Korean (ranked #147) and, despite a blip in the second set, won through 6-2, 0-6, 6-2, to set up a second-round tie against Australia's 24 year-old Madison Inglis (ranked #129) who was seeded #5 in the qualifying draw. Despite not dropping serve in the first set, Mandy Minella lost the tie-break 7-3. She recovered to win the second set, but ultimately lost the decider (6-7, 6-3, 2-6).
Mandy Minella then posted a heartfelt message on social media: "When I left home for Paris at 15 years of age dreaming of becoming a professional tennis player, the big question was… Will I make it?
I am 36 years old now and the only one who can possibly answer this question is myself. I've visited 72 countries, I have typically travelled over 30 weeks every year, met all kinds of interesting people and have experienced many different cultures. Tennis pushed me to limits I never knew I had in me. I learned both through disappointing losses and exciting wins. I showed all of me out there on the tennis court with no barriers. I showed all my heart could possibly show. Tennis, you raised me, you helped form me into the woman I am today, you are my school of life.
In the end it took a village to make this work.
Thank you from the bottom of my heart for all of the support to my fans, sponsors and friends. Thank you to the WTA, ITF, COSL, LIHPS, FLT, IWTP, Luxembourg, Tennis Spora , TC Arquebusiers, Patrick Mouratoglou and Family Curridor.
Thank you Fabien Verougstraete, Alioune Touré and Norbert Palmier for your guidance on court in my early years . Thank you Serge Thomé for keeping my body together and for being available anytime for the past 20 years.
I can never be thankful enough for my parents and grandparents and their 100% support and unconditional love for allowing me go live my dream, from the beginning to the end.
To my husband, Tim Sommer, you brought my career to another level. In the last 12 years, your technical and tactical skills helped me reach the best years and biggest results of my career. Most importantly, you always put me and our children first, even if that meant to put your projects and yourself second. I will be forever thankful.
So yes, WE made it.
See you around,
Mandy"