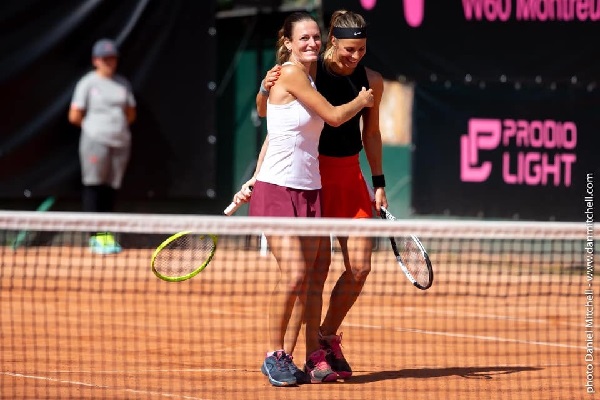 Mandy Minella and Xenia Knoll; Credit: Mandy Minella - Facebook
Luxembourg tennis player Mandy Minella and Swiss partner Xenia Knoll have won the doubles title at the Montreux Ladies Open in Switzerland.
WTA 118th ranked Mandy Minella (doubles) played with Swiss tennis player, the WTA 85th ranked Xenia Knoll in the doubles finale of this year's Montreux Ladies Open (also known as the Elle Spirit Open) on Saturday. The Luxembourg-Swiss duo played against Switzerland's Conny Perrin (WTA 253rd) and Ylena In-Albon (WTA 271st).
The match ended in a 6-3 and 6-4 victory for Minella and Knoll. This win marks the 33-year-old Luxembourger's ninth doubles success on the International Tennis Federation (ITF) Women's World Tennis Tour.
In the semi-finals of the tournament, Minella and Knoll defeated Belgium's Marie Benoît and Latvia's Diāna Marcinkēviča. Before that, they played and defeated German tennis player Tamara Korpatsch and her Swiss partner Pauline Wuarin in the quarter-finals.
The Montreux Ladies Open, which took place this year from 2 to 8 September, is a professional women's tennis tournament played on outdoor clay courts. Now in its third year, the event is a US $60,000 ITF Women's Circuit tournament.