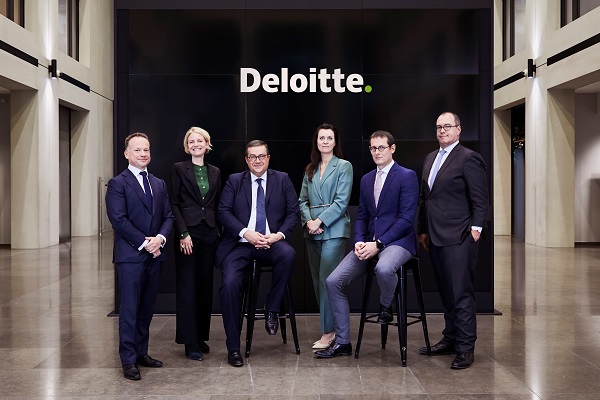 L-R: Pierre Masset, Operations Leader; Christiane Chadoeuf, Audit & Assurance Leader; John Psaila, Managing Partner; Francesca Messini, Sustainability Leader; Bernard David, Tax Leader; Patrick Laurent, Advisory & Consulting Leader; Credit: Deloitte Luxembourg
Deloitte Luxembourg has just published its fourth annual "Impact Report" together with its financial results, reporting a gross revenue of €405 million for financial year 2022.
The interactive online Impact Report reflects the variety of actions taken by the firm and its professionals to foster sustainability and drive positive change for its clients, communities and the planet.
"At Deloitte, we firmly believe that sustainable businesses must evaluate their performance from more than a financial angle. The success of our endeavours lies in empowering our people to take ownership, to collaborate effectively to write their own impact story and be a force for good. In this year's Impact Report, we look at some of our actions, big and small, that contribute to enabling a better and more sustainable future", stated John Psaila, Managing Partner at Deloitte Luxembourg.
According to Deloitte Luxembourg, the core of the firm's ambition is to empower its people through a variety of initiatives such as a competitive reward model that recognises excellence, a modern flexible working approach and a range of upskilling and training opportunities for employees.
While the firm progresses toward its sustainability goals and local commitment to reduce its ecological footprint, it has also been investing in education. In financial year 2022, the firm introduced a mandatory sustainability training for all its professionals. The training provides concrete guidance for making positive climate choices at home and at work.
"We believe we have a responsibility in actively supporting the communities we live in. Luxembourg is home to many impactful organisations with whom we are proud to collaborate to help foster a more prosperous future – be it through education, climate protection or support for the most vulnerable, both here and across the globe", commented Francesca Messini, Sustainability Leader at Deloitte Luxembourg.
Deloitte's WorldClass mission aims to positively impact 100 million lives by 2030, with Deloitte Luxembourg aiming to help 19,000 people locally and internationally. In financial year 2022, Deloitte Luxembourg already achieved 49% of its 2030 target by reaching 9,386 individuals directly or indirectly since the start in 2019. The firm is focusing its support on local organisations involved in education, equality and helping vulnerable people.
Since the beginning of the war in Ukraine, Deloitte Luxembourg and its people have mobilised with other Deloitte firms across the continent to provide support to those affected the most. This led to the creation of a special task force that assists Ukrainian colleagues and their relatives in relocating and answering their most pressing needs. Additional help included monetary donations and a fast-track process to welcome Ukrainian professionals seeking job opportunities.
Since 2021, Deloitte Luxembourg has been publishing its annual results as part of the Impact Report. The firm reported yet another year of sustained growth similar to its 2021 performance with a 7% increase in its firmwide gross revenues, which reached €405 million in 2022. All three business lines actively contributed to the result with Audit & Assurance up by 7%, Advisory & Consulting by 9% and Tax by 3%.
"This year again, we have registered a 7% growth in our gross revenues, which now exceed €400 million. We again secured growth that is consistent, durable and sustained. However, we believe that in today's challenging world, the true measure of success for a firm like ours is better demonstrated in how we co-create a more prosperous tomorrow with all our stakeholders", stated John Psaila.
The full Impact Report is available at: https://www2.deloitte.com/lu/impactreport2022.