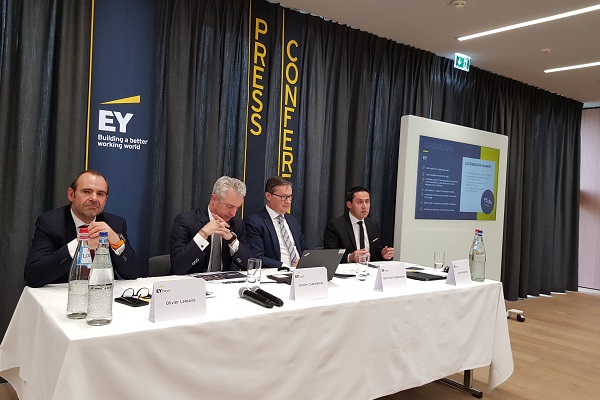 L-R: Olivier Lemaire, Partner & Assurance Leader; Olivier Coekelbergs, Country Managing Partner; Bart van Droogenbroek, Partner & Tax Leader; Laurent Moscetti, Partner & Consulting Leader; Credit: Jazmin Campbell
On Thursday 25 November 2021, EY Luxembourg presented its results for the fiscal year 2021 at a press conference held in its premises in Luxembourg-Kirchberg.
EY announced a growth of 10.2% in its turnover generated in Luxembourg, reaching total net revenues of €286 million for the financial year ending 30 June 2021. Over the past two fiscal years, EY Luxembourg has achieved a combined growth of 24.4%.
"Although the past two years have been particularly challenging, with the pandemic triggering an almost overnight shift to virtual working in FY20, I am proud that EY has once again achieved excellent financial results in FY21", commented Olivier Coekelbergs, Country Managing Partner of EY Luxembourg.
Assurance: growth of 10%
Olivier Lemaire, Partner and Assurance Leader at EY Luxembourg, noted that the Assurance practice again achieved a strong growth of 10% in fiscal year 2021, after a record year of 16.5% growth in 2020. The increasing demand for further assurance, linked in part to new regulations in the financial sector, continued to be a driver for growth.
"Luxembourg remains highly attractive for international players in all industry sectors and particularly in Alternative Asset Management", explained Mr Lemaire. "Digital Audit, including data analytics expansion, process mining and robotics, are among the growth opportunities for the upcoming years, which will add even more value to our audits".
Tax: growth of 11.8%
Bart van Droogenbroek, Partner and Tax Leader at EY Luxembourg, noted that the Luxembourg Tax practice delivered a robust turnover growth of 11.8% for the fiscal year 2021. He attributed this growth in part to the firm's capacity to adapt to a constantly changing fiscal landscape and the increasing complexity of tax functions.
"EY Luxembourg continues to see a significant increase in the alternative investment fund industry and particularly in Private Equity, Read Estate and Credit Funds, requiring high quality tax advice. This trend, along with the profound transformations led by ESG regulations in all sectors, will be fuelling growth opportunities within the Tax practice for the months and years to come", commented Mr van Droogenbroek.
Consulting: growth of 5.5%
After a challenging year 2020, the Consulting practice registered a solid growth of 5.5% for the fiscal year 2021.
Laurent Moscetti, Partner and Consulting Leader at EY Luxembourg, commented: "Client centricity and the creation of technology-enabled long-term value is what drives our practice's growth". Looking to the future, he added: "In the upcoming year, we will accelerate the development of our Financial Managed Services Platform, which delivers state of the art services to the actors of the Alternative Investment Funds industry". Other priority topics over the coming year include the digital and data-led transformation, cybersecurity and environmental, social, and governance (ESG) consulting services.
Strategy & Transations: growth of 13%
The Strategy and Transaction (SaT) practice delivered another year of strong revenue growth of 13%, which follows up on a previous year of 30% growth. In a press release, Christophe Vandendorpe, Partner and SaT Leader at EY Luxembourg, explained that weaker mergers and acquisitions market conditions at the start of the fiscal year were "largely compensated for by a stronger activity level in the second half of the year".
EY Global
EY Global announced combined global reveues of $40 billion for the financial year ended June 2021, an increase of 7.3%.
Recruitment
Since the start of the fiscal year 2021, EY Luxembourg onboarded a record number of 450 joiners. By the end of the fiscal year, the firm will have hired more than 700 new professionals. EY Luxembourg currently counts a total of 1,700 employees, consisting of 86 nationalities.
Sustainability Report
Also on 25 November, EY Luxembourg launched its first "Sustainability Report", covering the fiscal year 2021.
"At EY, we see our business as a catalyst to generate long-term sustainable value", explained Renaud Breyer, Partner and Sustainability Leader at EY Luxembourg. "[W]e have taken several specific actions to strengthen a diverse and inclusive working environment and lower carbon emissions by aligning with EY Global environmental commitment. We are also very proud of our EY Corporate Responsibility Programme, EY Ripples".
Reflecting on EY Luxembourg's main goals and priorities for 2022, Country Managing Partner Olivier Coekelbergs emphasised at the press conference that the firm will continue to stabilise its operational model, both in relation to the COVID-19 pandemic and to recruitment. He added that EY is committed to investing in technology, as well as in its teams, managed services and alternative funds. The firm will also strive to maintain its local approach and to continue to have a positive impact on society and the environment.