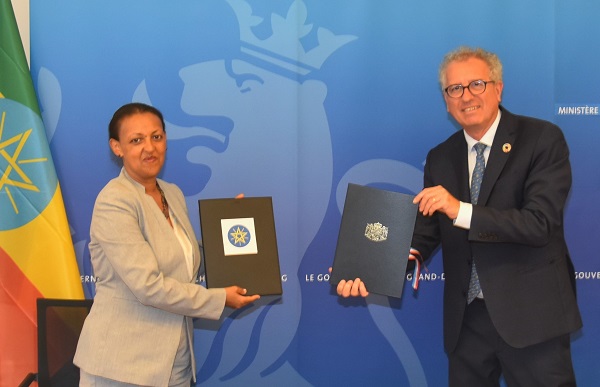 L-R: Hirut Zemene Kassa, Ambassador of Ethiopia to Luxembourg; Pierre Gramegna, Luxembourg's Minister of Finance; Credit: MFIN
On Tuesday 29 June 2021, Luxembourg's Minister of Finance, Pierre Gramegna, and the Ambassador of Ethiopia to Luxembourg, Hirut Zemene Kassa, signed a tax treaty between the Grand Duchy and Ethiopia.
Both the Finance Minister and Ethiopian Ambassador welcomed the deepening of bilateral relations in general and the expansion of economic and financial cooperation in particular.
This convention aims to promote economic relations between the two countries by eliminating double taxation. The agreement thus contains the standards resulting from the work on the base erosion and profit shifting (BEPS) project of the Organisation for Economic Co-operation and Development (OECD) and thus taking into account the commitments made by Luxembourg at the international level.
Minister Pierre Gramegna commented: "I welcome the signing of the tax treaty between Luxembourg and Ethiopia. This convention will lay the foundations for further collaboration between our two countries and greatly facilitate two-way investments. It will also make it possible to complete and improve Luxembourg's conventional network with tax treaties that comply with the latest standards in terms of tax transparency and the fight against tax evasion. During my discussion with the delegation, we were also able to highlight avenues for developing synergies in the field of sustainable finance".