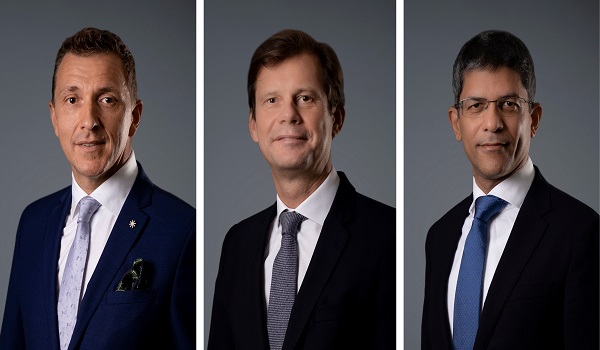 L-R: David Capocci, Managing Partner; Stanislas Chambourdon, Head of Sales & Markets; Ravi Beegun, Chief Innovation Officer; Credit: KPMG Luxembourg
KPMG Luxembourg announced today a 1% growth in revenue for the year 2020, an increase that the firm has attributed to the resilience and dedication of its employees and clients.
KPMG Luxembourg reported revenues of €235 million, up from €232 million in 2019. This included a 9% increase in the firm's audit department, from €103 million in 2019 to €112 million in 2020. Revenues fell in the tax and advisory departments by 5% (from €61 million to €58 million) and 4% (from €68 million to €65 million) respectively.
The firm also witnessed 47% growth in alternative investments and 18% growth in asset management in 2020.
Commenting on the resilience of the people at KPMG, David Capocci, Managing Partner at KPMG Luxembourg, stated: "Six out of twelve months of this financial year were spent battling a global pandemic. From the outset, we set ourselves the goal of having a laser-like focus on what matters most: people and clients. Every little action we have taken has been with their wellbeing and success in mind. Together we have persevered and together we are building a new reality".
Ravi Beegun, Chief Innovation Officer, shared how staff will be tapping into their inner entrepreneur: "We want innovation to be hardwired into our organization. This can't be done overnight. Innovation sounds like fun and games, but it doesn't occur by accident. It's all about designing a new way of working with mechanisms and processes, training and knowledge-sharing, and access to the right alliance partners to help us with the technology. Only with these foundations in place can we co-create with our clients".
At the end of 2020, 1,773 employees (up 1%) with 73 different nationalities were working at KPMG Luxembourg.