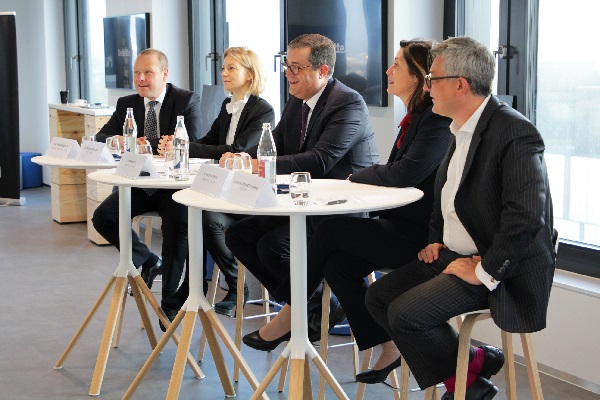 L-R: Joël Vanoverschelde, Advisory & Consulting Leader; Christiane Chadoeuf, Audit Leader; John Psaila, Managing Partner; Sophie Mitchell, Operations Leader; Raymond Krawczykowski, Tax Leader; Credit: Deloitte Luxembourg
During the annual press conference at its new headquarters in Cloche d'Or, Deloitte Luxembourg announced that its gross revenue for the 2019 financial year grew by €20 million to reach €350 million compared to last year's figures.
Despite a rather uncertain global environment, Deloitte Luxembourg's three service lines of audit, advisory and consulting, as well as tax, all contributed to the firm's growth with increases of 7%, 3% and 10% in their respective gross revenues.
Marking the ninth consecutive year of solid progress, John Psaila, Managing Partner at Deloitte Luxembourg, alongside service line leaders, credited this success to the firm's unique multidisciplinary approach, the recruitment and retention of talent and its agility to constantly and consistently adapt to the markets in which it operates.
John Psaila commented: "We are delighted to report another year of growth. This demonstrates once more the relevance of our distinctive business model: we think ahead, create connections, and gather knowledge from our various experts to offer the right service at the right time. We continuously seek to enhance our existing services and explore and develop fresh offerings in response to new market needs".
John Psaila also highlighted Deloitte's wider network as an asset. With over 310,000 talented professionals worldwide, Deloitte has reported considerable growth on a global level reaching US$45 billion in revenue, representing an increase of 9.4% in local currency terms, compared to last year.
At the press conference, a strong focus of was placed on two major investment channels: talent and technology. In this context, John Psaila explained: "We seek out promising talent and create pathways to success for our people. We provide them with new working dynamics, ongoing development opportunities, and we place a strong emphasis on diversity and inclusion. Together, we know that these create not only a better professional environment, but also improves business performance".
In addition, Deloitte Luxembourg chose the press conference as the opportunity to launch its first "Impact Report", a testimony of the impact the people at Deloitte make on each other, the market and society at large. John Psaila concluded: "We want to create positive change and empower our people to make it happen. This is the reason why the Impact Report is made of personal stories. Our people are the ones enabling change. Today, companies must proactively play a pivotal role in shaping the 21st century for the better".