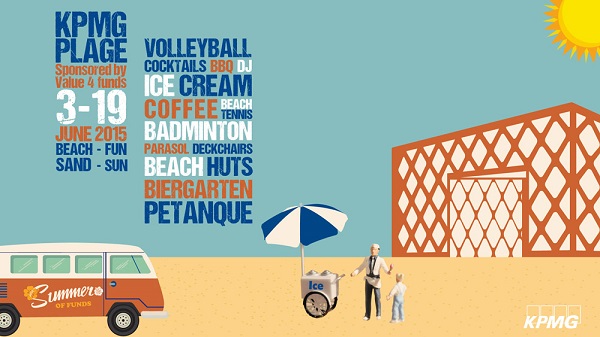 KPMG Luxembourg is gearing up for a summer to remember as it launches its first KPMG Plage programme of events this June, informally dubbed as the "Summer of Funds".
The firm is planning a fortnight of sand, sun and fun at their 39 JFK headquarters in Kirchberg, to open the summer in style and enjoy the season with its people, clients and local community.
Creating a true beach vibe
After months of planning for this logistical feat, the firm today announced the main building blocks of its KPMG Plage. In addition to over 150 tons of sand and palm trees in front of its building, KPMG will be decking out its headquarters in very simple and retro style from 3 to 19 June 2015. As well as parasols, beach huts and deckchairs, beachgoers will also be greeted with a wide variety of refreshment options, including BBQ, drinks and ice-cream. Sports lovers are also catered for in the firm's plans with beach volleyball and beach tennis equipment, a dedicated pétanque terrain and other facilities for summer activities in the pipeline.
The beach will be open to the public during the Open Days to be held from 11am to 5pm on 13 and 14 June 2015, when everyone is invited to take a trip to the KPMG Plage.
KPMG Luxembourg Managing Partner Georges Bock commented "Luxembourg can dare to be different in its approach to the world: who needs an ocean to create a beach? We're such a small country, but we're having a big impact on an international scale because our way of doing things has an unexpected twist. We, KPMG, really want to contribute to moving forward initiatives that other people believe to be impossible. It's not because it's difficult that we shouldn't take on the challenge. We want to share this can-do feeling with the whole of Luxembourg by joining together in a fun, relaxed atmosphere and looking to the future."
For the full programme of events, see http://www.kpmg.com/lu/en/issuesandinsights/articlespublications/pages/kpmg-plage.aspx.