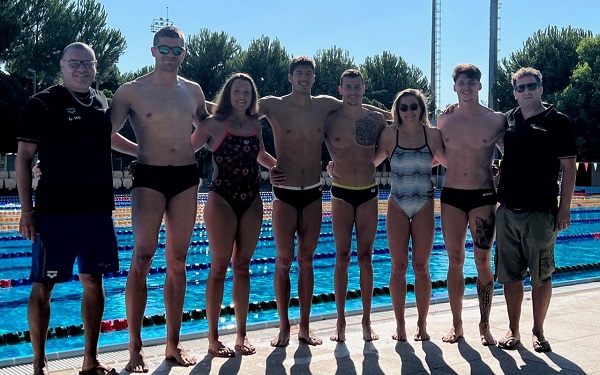 Luxembourg team for the European Swimming Championships 2022; Credit: FLNS
On Thursday 11 August 2022, the European Swimming Championships 2022 started at the Foro Italico outdoor swimming pool in Rome; at the Opening Ceremony on Thursday afternoon, Max Mannes had the honour of carrying the Luxembourg flag, before the swimming commenced in the pool.
The European Championships will close a long season and present an opportunity for swimmers to do well and aim for places in the coveted semi-finals.
The Luxembourg delegation, organised by the Fédération Luxembourgeoise de Natation et de Sauvetage (FLNS), started the first day in the pool with Julien Henx and Monique Olivier in action.
Julien Henx set a time of 23.95 secs in the Men's 50m butterfly, finishing in 25th place overall. The time was slower than his personal best (PB) for this race: he admitted that he was a little rushed and a few technical errors made him miss a semi-final which he felt was accessible. Nevertheless, he remains focused for the remainder of the competition.
Monique Olivier swam the Women's 100m Freestyle, the first of three disciplines for her. With a time of 57.84 secs, she swam a well-managed race. For Monique, the main thing was to get into the competition (her main objectives are in the 200m Freestyle and 400m Freestyle).
Today (Friday 12 August) sees Rémi Fabiani and Pit Brandenburger, both participating in the Men's 100m Freestyle.
Meanwhile, Max Mannes and Julie Meynen continue to train in anticipation of their first events, on Sunday in the 200m Freestyle and on Monday in the 50m Freestyle respectively.