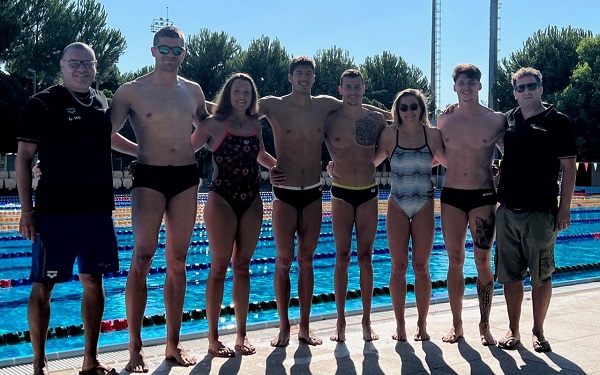 Luxembourg team for the European Swimming Championships 2022; Credit: FLNS
The Luxembourg Swimming Federation, the FLNS, has confirmed that the Luxembourg delegation has arrived in Rome to take part in the European Swimming Championships.
The following six swimmers will represent Luxembourg in European Swimming Championships that are taking place in Rome from 11 to 17 August 2022: Julie Meynen (50m Freestyle), Monique Olivier (100m Freestyle; 200m Freestyle; 400m Freestyle), Julien Henx (50m Butterfly; 50m Freestyle), Max Mannes (200m Freestyle; 100m Backstroke), Rémi Fabiani (50m Freestyle; 100m Freestyle; 50m Backstroke) and Pit Brandenburger (100m Freestyle; 200m Freestyle; 400m Freestyle).
Luxembourg will also be participating in three relay races: 4x100m Freestyle (Men); 4x100m Freestyle (Mixed); 4x100m Medley (Men).
A competition in Rome is always an exciting challenge with the public and swimmers creating a unique atmosphere. In the couple of days before the start of the competition, the Luxembourg participants have been training, recovery and making final technical and tactical adjustments.