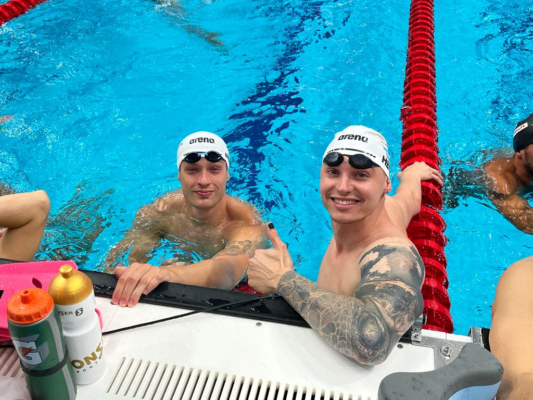 Credit: FLNS
The Luxembourg swimming federation FLNS has announced a four-member team for the World Swimming Championships taking place in Budapest, Hungary, from Saturday 18 to Saturday 25 June 2022.
In addition, the world championship titles in open water swimming, water polo, synchronised swimming and diving will be awarded during the event. Four months ago, the Hungarian capital stepped in at short notice for Fukuoka, Japan, which together with FINA, postponed the competitions to July 2024 due to the COVID-19 situation in Japan.
Unfortunately, shortly before the planned departure for Budapest, Monique Olivier of the Luxembourg team tested positive for coronavirus and was therefore unable to participate. The world championships are protected by a strict hygiene concept and all participants must undergo coronavirus tests before departure and after arrival in Budapest.
Additionally, Julien Meynen decided a few months ago to skip the World Championships in Budapest due to a training break. Thus, the FLNS decided to compete with a four-member team consisting of Ralph Daleiden Ciuferri, Julien Henx, Max Mannes and Rémi Fabiani in the 50 m pool of the Duna Arena be represented in the Hungarian capital.
Julien Henx from Dudelingen represented Luxembourg on Saturday with his only race over 50 m butterfly. He had set a new national record at "Geesseknäß" set a few weeks ago.
Max Mannes was challenged on the second day over 100 m backstroke and 200 m freestyle. In addition, the 24-year old will start on the penultimate day of the swimming competitions over 50m backstroke.
Team youngster and national record holder in the 100 m freestyle, Ralph Daleiden Ciuferri, will compete on Tuesday 21 June. he set the new national record over 100 m freestyle in March at the CIJ Meet in the Coque.
Daleiden Ciuferri, who will not attend the European Championships in Rome in August because he will then move to the United States for his studies, Budapest will be the sporting highlight of the season for him.
On 23 June, 20-year old Rémi Fabiani will compete in the 50 m freestyle.