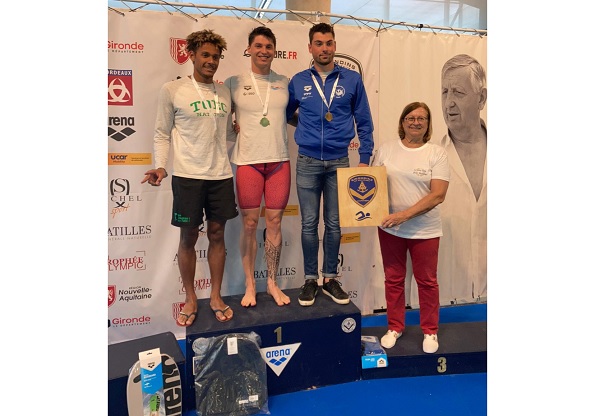 Julien Henx, 1st place in 100m freestyle race; Credit: FLNS
A selection of Luxembourgish swimmers travelled to Bordeaux (France) at the weekend to participate in the Grand Prix Jean Boiteux de Bordeaux.
The objective of this work competition was to put in place the technical and tactical elements in order to prepare for the first international meetings and to seek qualifications for the European and World Championships and the European Junior Swimming Championships.
Julien Henx made his comeback by notably winning the 100m freestyle event. He had been unable to compete in this race for two years due to COVID-19 (which he contracted twice). Mr Henx, who has been training in Luxembourg since September 2021, finished with a time of 51.10 seconds. He also finished second in the 50m freestyle (23.17 seconds) and 50m breaststroke (29.34 seconds) races.
Likewise, the young Finn Kemp, born in 2005, completed the 100m breaststroke race in 1.05.68 minutes. This time brings him just a tenth of a second closer to qualifying for the European Junior Swimming Championships. It also allowed him to place third in all categories of this event. Moreover, he improved his personal best time by more than four seconds in the 200m medley race and made it onto the podium with a time of 2.10.22 minutes in the Finals A.
Fellow Luxembourger Pit Brandenburger performed well given his busy two-day programme (50m, 100m, 200m and 400m freestyle events with heats and finals). He finished second in the 400m freestyle race in 4.05.09 minutes and third in the 200m freestyle race in 1.54.51 minutes (1.54.33 in the morning in series).
In addition, the following Luxembourgish swimmers performed well in the Finals A: Lou Jominet (4th in 400m freestyle), Tarik Durakovic (8th in the 400m freestyle) and Lena Peters (8th in 100m butterfly).