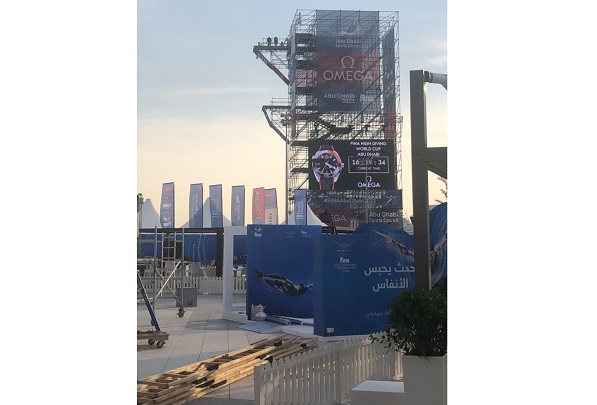 FINA High Diving Qualifier venue; Credit: FLNS
On Sunday 19 December 2021, Team Luxembourg was back in action at the World Swimming Championships in Abu Dhabi.
Day 4 of the competition saw Julien Henx and Monique Olivier compete in the 50m butterfly and the 400m freestyle events respectively. Alain Kohl is representing Luxembourg in the high diving competitions.
In the butterfly sprint, Julien Henx swam the season's best time in 23.95 seconds, but struggled with his start at the finish. "At first there was a lot of restlessness in the hall, then a false start in my run. To make matters worse, my left hand drifted off when I dived, which cost me a lot of speed. The swimming went much better then", the 26-year-old commented on his performance.
Monique Olivier showed commitment in the 400m freestyle race. Up to the 300-metre mark, the 23-year-old was on course for her best time (04:09.42 minutes), which she set up in Stavanger (Norway) in October. In the last 100 metres she had to pay tribute to the high starting pace and finished 24th out of 45 swimmers in 04:10.57 minutes. "I'm happy with my race. This is the second best time of my career", she said after her last race in Abu Dhabi.
In parallel to the swimming competitions, qualification for the 2022 World Aquatics Championship in Fukuoka (Japan) are taking place in high diving. Luxembourg's Alain Kohl is set to start with the number five out of 29 athletes from sixteen nations and will show four jumps from a 27-metre height. At the start, the 39-year-old jumped a dolphin double somersault with half a twist (degree of difficulty: 2.8) and a triple somersault with two and a half turns (degree of difficulty: 4.3). The judges awarded 136.20 points for this, which means he ranked 18th after two of four jumps.
However, Alain Kohl injured himself in the immersion phase of the second jump. A decision as to whether he can continue the competition will be made on Monday.