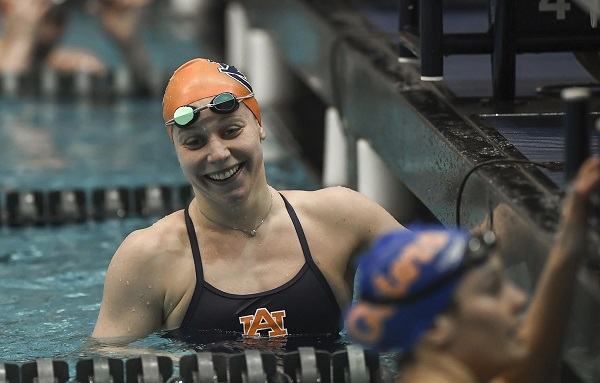 Julie Meynen; Credit: FLNS
Luxembourg's top swimmer Julie Meynen is set to compete as part of the Toronto Titans lineup at the International Swimming League.
Given ongoing concerns about the impact of the coronavirus pandemic on competitive sports, the International Swimming League (ISL) has announced plans to host its ten teams in a training camp between 14 October and 17 November 2020.
ISL initiator Konstantin Grigorishin commented: "During this time, the ISL will organise a commercial tournament in its revolutionary club format, and incorporate exciting new reality concepts into the production".
A provisional list of the ISL newcomer "Toronto Titans" has now been released. Among the 16 women and 14 men is Luxembourg's Julie Meynen. After her successful World Championship last year in Gwangju (12th place over 50m freestyle), the 22-year-old became the focus of the ISL.
Julie Meynen commented: "The Titians team manager, Robert Kent, contacted me at the beginning of the year and offered me a place in the team. I am very happy to be part of a team with Olympic champions and world record holders".
After obtaining her degree in sports science at Auburn University (US), Julie Meynen has been preparing for the new season in Luxembourg since the beginning of May.
The sprinter is in good company with the Toronto Titans. In addition to Russia's Anton Chupkov (world champion 2017 and 2019 over 200m breaststroke), the lineup features Ukrainian world record holder Andriy Govorov and Canadian top stars Penny Oleksiak (Olympic champion 2016 over 100m freestyle) and veteran Brent Hayden (Olympic bronze 100m freestyle 2012).
The ISL had its premiere last autumn. The programme included a total of seven competitions in which professional clubs from Europe and the United States competed against each other.