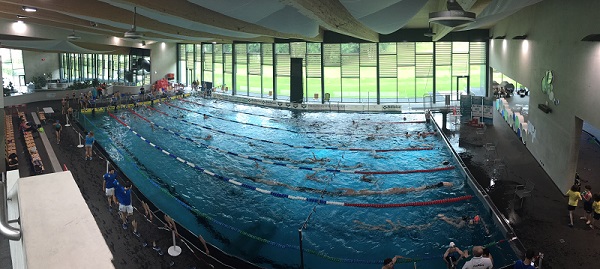 Aquasud swimming pool in Differdange;
This weekend, the Aquasud swimming complex in Differdange will host the national championships, organised by Luxembourg's national swimming federation the FLNS.
On 16 and 17 November 2019, 184 athletes from eleven Luxembourg clubs will compete for best times, medals and records over 967 individual and 44 relay starts in the 25-metre pool of the Aquasud.
For elite swimmers Raphaël Stacchiotti, Pit Brandenburger and Julien Henx, the national championships mark a final test of form ahead of the European Short Course Championships being held in Glasgow from 4 to 8 December 2019. The national championships are also the last chance to qualify for the continental championship fights. Last week, Max Mannes and Rémi Fabiani narrowly missed the standard time to qualify for Glasgow at the Belgian championships in Ghent.
In the fight for the European Championship ticket, Raphaël Stacchiotti will try to defend his 200m backstroke title from the previous year, whilst Pit Brandenburger is hopeful for the 200m freestyle race. Similarly, Julien Henx will try to defend his championship titles over the 50m freestyle and 50m butterfly events to secure a good starting position for the European Championships in Glasgow.
The 100m freestyle race also promises to be an interesting one with Pit Brandenburger, Max Mannes and Rémi Fabiani competing for medals. Meanwhile, Lou Jominet is considered the one to beat over the 400m and 800m freestyle and 400m medley positions. The 14-year-old was already in top form last weekend in Ghent where he set new best times for his age group (04:21.70 / 08:56.55). On the shorter races, Jacqueline Banky is aiming for the title over the 50m, 100m and 200m backstroke and freestyle events. For their part, sisters Lena and Emma Peters are favourites to win medals in the freestyle, butterfly and distance races.
The championship programme includes all individual events (17) as well as the mixed relay over 4x50 freestyle and medley positions and the 4x100 freestyle and medley relay races for men and women.
In addition, athletes from Special Olympics Luxembourg will have the chance to prove their skills on Sunday afternoon.
The competitions start at 09:30 and 16:00. Admission is free.