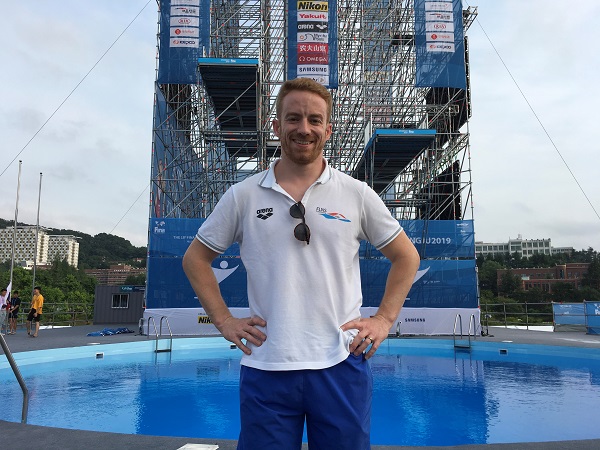 Alain Kohl, platform diver; Credit: FLNS
Alain Kohl has prepared for the Platform Diving competition in the Swimming and Diving world Championships currently being held in South Korea by training in his adopted home of Innsbruck in the "Area 47" with a height-adjustable diving tower (up to 27m).
In looking forward to his second World Cup, he stated "I feel fine, the facility is mine. The training so far has been very satisfactory."
Starting on Monday, the women are diving from 20 metres and the men from 27 metres in front of 3,000 spectators at Gwangju's Chosun University.
Alain Kohl, one of the 22 participants from 12 countries, was ranked #23 at the FINA World Cup in May in Zhaoquing, China, which secured his qualification for his second World Cup. Already in Budapest in 2017, the 36-year-old participated and finished in 17th place.
The regulations foresee two jumps on the first day, followed by a third jump on Wednesday: the top twelve athletes qualify for the final and participate in a fourth jump.
In the first round, the 36-year-old performed his mandatory jump and was awarded 54.60 points, which ranked him #18. In the second round, he performed a triple somersault with one and a half turns (difficulty of 4.3) for which he received 98.90 points. This puts the Luxemburgish diver in 16th place among 22 divers.
"At the first jump I messed up the landing, the second was very good" Alain Kohl summed up. The 3rd and 4th rounds/jumps are on Wednesday.