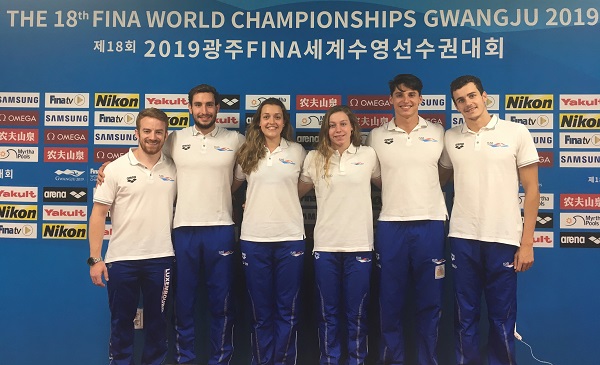 Luxembourg's squad at Gwangju; Credit: FLNS
Pit Brandenburger, one of Luxembourg's 6 participants at the Swimming World Championships being held from 21-29 in Gwangju, South Korea, set a new personal best time over 200m freestyle with a time of 1:50.10.
Starting in the third of seven heats in lane five, the 23-year-old was on course with an initial time of 25.86 at the 50-metre mark to stay under one minute 50 seconds. On the last length he started his final spurt a bit late and was pipped by the Turkish swimmer, Erge Gemzis (1:49.35).
"I am not satisfied with my race, the frequencies from the second part were too low. I also did not really hit it right", Pit summed up his performance after the race. Tomorrow the sporty soldier is already required again, with the 800 metres freestyle.
Thus, one of the oldest national records, of Raphael Stacchiotti (1:49.61) set at the 2009 World Cup in Rome, remains untouched.
Pit Brandenburger was placed 38th out of 65 starters in the result list.