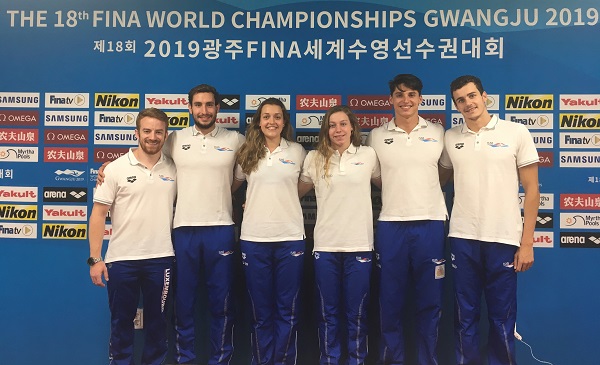 (L-R): Alain Kohl, Raphael Stacchiotti, Monique Olivier, Julie Meynen, Julien Henx, Pit Brandenburger; Credit: FLNS
The Luxembourg Swimming Federation is participating in the World Swimming Championships that is taking place between 21-29 July in Gwangju, South Korea.
In the lead up to the 2020 Tokyo Olympics in Japan, elite swimmers will meet up in the South Korean city of Gwangju. With a record number of 1,182 athletes from 194 nations, swimming begins on Sunday with a quintet from the Luxembourgish Swimming Federation (FLNS).
With their upfront work, Raphael Stacchiotti and Julie Meynen have come closest to the A-qualifying times for the Olympic Games next year. In the 100m freestyle discipline, sprinter Julie Meynen set a new national record of 54.49 seconds at the home race in Auburn on 22 June, and is only eleven hundredths off the ticket for Tokyo. In the 50-metre sprint, her best time is 25.00 seconds, the A-qualifying time for Tokyo at 24.77.
Raphael Stacchiotti scored his season's best at 2:00.95 at the Bergen Swim Festival in Bergen, 1.28 seconds outside Tokyo's secure qualifing time (1:59.67). His national record stands at 2:00.21 from the 2016 Olympic Games in Rio. The A-qualifying time stands at 4:15.84 min over 400 metres, his best time at 4:17.20 from the 2012 Games in London. In any case, the 2-minute mark must fall or a new national record ago to bring Tokyo into play.
Pit Brandenburger also struggles to break the qualifying standard. At the Bergen Swim Festival in April, the 23-year-old swan the 200m freestyle in 1:50.17 minutes, just outside the mark of 1:50:00. His goal is to break the national record of team-mate Raphael Stacchiotti (1:49.61 / WC Rome 2009). The A standard for Tokyo stands at 1:47.02.
Over 50m freestyle and 50m butterfly, Sprinter Julien Henx has targeted his country records of 22.81 secs and 23.96 secs respectively. With the A standard of 22.01 over 50m freestyle, it is still a good piece of work.
Monique Olivier participates in the 400m freestyle on Sunday in the World Cup events. Her national record of 4:15.24 dates from the 2015 World Cup in Kazan. On Tuesday, in the 200m freestyle she is after a new record and wants to continue to approach the two-minute mark. Her national record is 2:01.87 set in April 2018.
Overview of the FLNS participants:
Raphael Stacchiotti: 200m IM (29/56), 400m IM (27/42)
Pit Brandenburger: 200m freestyle (43/72), 800m freestyle (37/40)
Julien Henx: 50m butterfly (39/97), 50m freestyle (56/138), 100m freestyle (59/125)
Julie Meynen: 50m freestyle (30/108), 100m freestyle (32/100)
Monique Olivier: 200m freestyle (37/64), 400m freestyle (34/46)
In addition, Luxembourg's Alain Kohl will also participate in the diving championships from 22 - 24 July at the same venue.