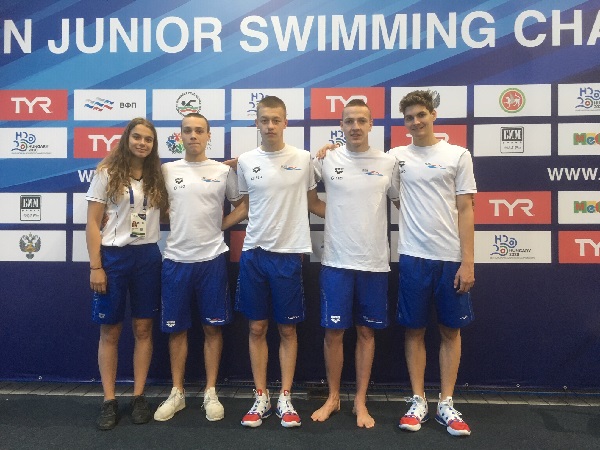 Credit: FLNS
Luxembourg swimmer Emma Peters set a new personal best at the European Junior Championships, which took place from 3 to 7 July 2019 in Kazan, Russia.
At the end of the European Junior Swimming Championships, Emma Peters set a new personal best over the 50m butterfly stroke with a time of 28.71 seconds. This resulted in her best finish, coming in 37th place.
Luxembourg all-rounder Joao Carneiro was also competing on Sunday, over the 400m medley event. The 13-year-old finished in 4:39.44 minutes, in 28th place.
The men's 4x100m medley relay also saw success for the Grand Duchy; Luxembourg Swimming Federation (FLNS) quartet Bob Sauber, Yann Van Den Bossche, Joao Carneiro and Jacques Schmitz finished in 3:38.20 minutes, in 19th place.
Since Wednesday, the Luxembourg team has achieved eight best times in seventeen starts. Freestyle specialist Bob Sauber set new personal records over the 100m freestyle (52.28) and 100m back stroke (1:00.24), whilst 16-year-old Emma Peters swam faster than ever over the 50m freestyle (27.43) and 100m freestyle (58.87) events. For his part, Joao Carneiro secured bests over the 200m breaststroke (2: 22.99) and 100m butterfly stroke. In addition, the 15-year-old secured the best individual ranking for Luxembourg in Kazan when he finished in 23rd place over the 200m butterfly stroke. Likewise, breast stroke specialist Yann Van Den Bossche improved his old best time by 3.01 seconds over the 200m event (2:23.88).
Jacques Schmitz had to cancel his participation over the 400m medley race due to a bad cold.