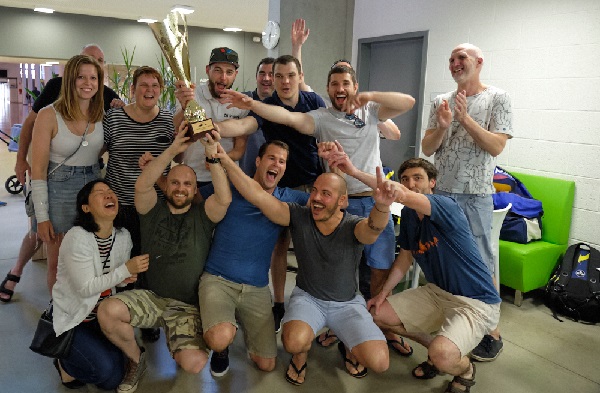 Winners: CN Diekirch team; Credit: FLNS
On Sunday 2 June 2019, the CN Diekirch water polo team won 17:12 in the cup final against their opponents from Swimming Luxembourg.
Held on neutral ground and under international standards at the Centre Sportif René Hartmann in Dudelange, the match brought together some of Luxembourg's best players.
Right from the start both teams were determined and after eight minutes, it was 3: 3. In the second quarter, the Swimming Luxembourg team earned a two-goal lead to 8:6 before the Diekirch team could compensate for the end of the third quarter with a 10:10 draw. In the last quarter, top scorer Gasper Kalan made the difference with four of his eleven personal goals and secured the trophy for his team.
Having already won the interregional championship with 19 points, the Diekirch players defended the "Triple" from the cup and the national and interregional championship.
Following the match, the Diekirch team received their trophies at a small graduation ceremony in the presence of the Luxembourg swimming federation (FLNS) president Marco Stacchiotti and Dudelange sports lawyer Loris Sprina.