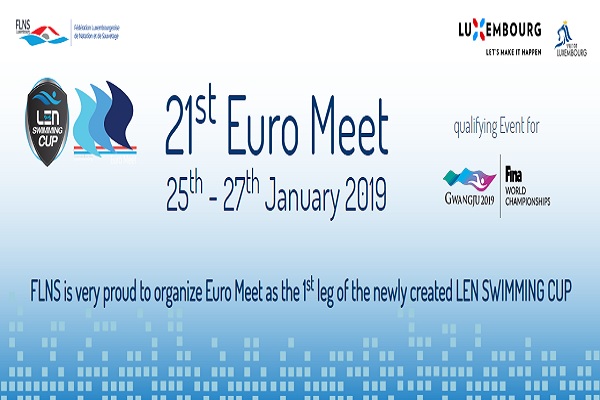 22 Luxembourg swimmers will compete with some of Europe's elite swimmers at the Euro Meet 2019 at the Coque this weekend.
The 21st Euro Meet will see 700 swimmers from 27 nations compete for titles, personal bests and medals. Among them is a selection of 22 Luxembourg national swimmers led by Raphael Stacchiotti, Julien Henx, Pit Brandenburger and Monique Olivier. In addition, athletes from the Diekirch, Dudelange, Wiltz, Echternach, Differdingen, Ettelbrück, Redange and Luxembourg swimming teams will take part.
The swimming gala has similarly attracted elite swimmers: for instance, the races of Olympic Champions Katinka Hosszu (Hungary) and Sarah Sjöström (Sweden) promise high tension. In the men's events, the German short course World Record holder Marco Koch will go up against Italian silver medallist from the 2011 World Championship, Fabio Scozzoli, and his team mate and junior World Record holder Nicolò Martinenghi. Russian World Record holder Kliment Kolesnikov and British World and European Champion Benjamin Proud will also participate.
The Euro Meet is the kick-off of the newly established "LEN Swimming Cup", a competition series of the European Swimming Federation (Ligue Européenne de Natation). For this occasion, the technical equipment of the meet was once again significantly upgraded. In total, the competition will be broadcasted on four LED screens with 14 cameras in HD quality. The preliminary heats and B-finals will be broadcast live on www.euromeet.lu while the A-finals will be made available to European television stations via the Eurovision network. At the suggestion of top athletes, the preliminaries will be separated into faster and slower heats and the B-finals will be held en bloc before the A-finals.
Tickets for the Euro Meet are available at the box office: €5 for preliminary heats, €10 for the final (entrance for kids up to 12 years is free).