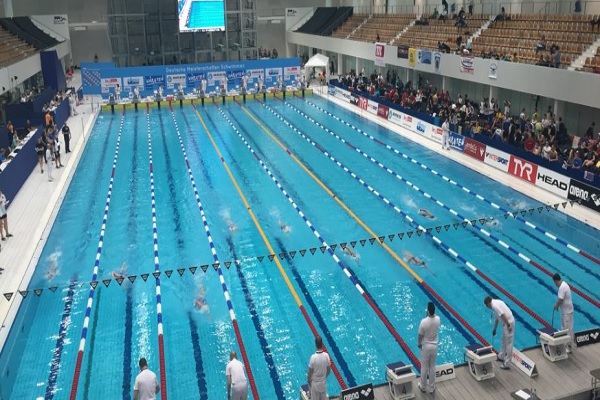 The 2018 Luxembourg Winter Championships in swimming are taking place today and tomorrow in Dudelange.
On 1 and 2 December, the national championships wil held for Luxembourg swimmers in the 25-metre pool at Centre Sportif René Hartmann in Dudelange. The competition will see 184 athletes from eleven clubs in Luxembourg fight for personal bests, medals and records over 851 individual and 56 relay races.
For the Luxembourg Swimming Federation (FLNS) elite swimmers Raphaël Stacchiotti, Pit Brandenburger and Julien Henx, the national title fights are a final test of form for the World Cup taking place on 11-16 December in Hangzhou (China).
Allrounder Raphael Stacchiotti has decided to focus on the 100m chest and freestyle as well as the 200m back and freestyle races this year. Special suspense is promised by the 100m and 200m freestyle races where Raphael, Pit and Max Mannes will compete for the gold medal. Meanwhile, Julien Henx will focus on the freestyle sprint as well as the 50m and 100m butterfly races.
On Sunday, Monique Olivier will participate in the 50m butterfly and 100m freestyle races. Due to upcoming exams as part of her studies, the 20-year-old along with Julie Meynen cannot participate in the World Cup.
The championship programme includes all individual decisions (17) as well as the mixed relay over 4x50 freestyle and 4×100 freestyle, relay and medley races for men and women. The 50m courses are held in heats and finals in the open class, all other tracks as direct decisions in the open class and the Juniors, Jeunes and Pupilles categories.
The competitions start at 09:30 and 16:00 and admission is free.