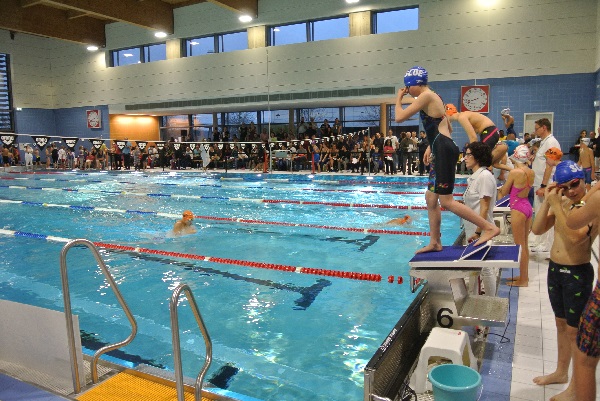 Credit: FLNS
Luxembourg diver Alain Kohl placed 13th in the FINA High Diving World Cup 2018 in Abu Dhabi on 9-10 November.
Alain Kohl was one of 25 divers from 15 nations fighting to qualify for the 2019 World Cup in Gwangji/South Korea. After the first two dives, the Luxembourger finished eleventh before progressing to ninth place. However, the 26-year-old ultimately finished in 13th place with 299.05 points, just missing out on the World Cup qualifier by ten points. British diver Gary Hunt won the World Cup for the third time in a row with 431.55 points.
Also in Luxembourg swimming news, the country's most hopeful young swimmers competed in the first part of the Trophée de l'Avenir in Redange yesterday. 183 athletes from eight Luxembourg clubs competed in 178 individual and 96 relay races.
In the "Poussins" category, the 1st team of the Swimming Luxembourg club (05:40.24) won ahead of the club's 2nd team (06:13.09) and the Differdange swimming club team (6.22,14). Swimming Luxembourg's 1st team also won the Coupe de l'Avenir in the 10x25m freestyle in 02:40.42 thanks to the efforts of Kevin Peusch, Teodora Grujic-Martins, Philippe Weyland, Jules Moog, Mathis Moog, Pablo Ortiz Bogdanov, Evan Viguier, Han Mengjia, Alex Krombach and Thijmen Rikkert. The club's Maja Milonovska (41.96) won the single distance in the 50m backstroke with fellow club mates Teodora Grujic-Martins (42.36) and Sophia Constantin (45.91) taking second and third.
In the "Pupilles" category, Swimming Luxembourg's Han Mengjia (01:16.35) won the gold medal in the 100m, Lina Philippart (01:20.23) of the Monnerech swimming club won the silver medal and bronze went to club-mate Leeloo Reinesch (01:20.60). Among the boys, Monnerech's Nicolas Calmes (01:16.43) placed first, Kevin Peusch from Swimming Luxembourg (01:16.67) placed second and third place went to Thijmen Rikkert (01:17.60), also from Swimming Luxembourg.