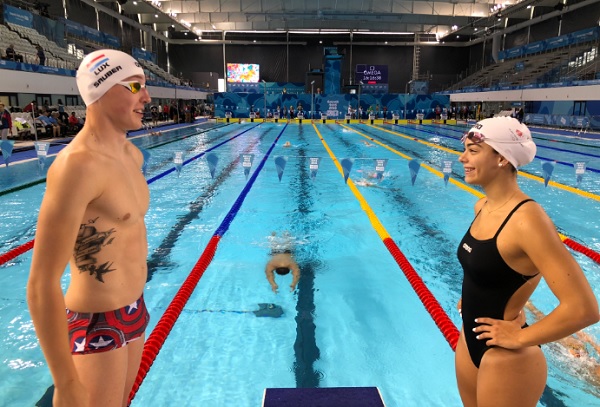 Bob Sauber and Maria Perez Garcia are currently representing Luxembourg at the swimming competitions of the Youth Olympic Games Buenos Aires 2018, taking place from 7-12 October in the 2,100-seat "Natatorium" in Olympic Park.
An atmospheric opening ceremony on Saturday night kickstarted the third edition of the "Youth Olympic Games". In the city centre of Buenos Aires, 250,000 supporters gathered to watch the 4,000 athletes from 179 nations compete in 36 disciplines and 239 competitions for best times, records and medals. Among them is the "Comité Olympique et Sportif Luxembourgeois" (COSL) composed of ten Luxembourg athletes, including the swimming duo Bob Sauber and Maria Perez Garcia.
The swimming competitions feature 391 athletes aged 15-18 coming from 140 countries competing against each other in 36 swimming disciplines. On the second day, FLNS duo Bob Sauber and Maria Perez Garcia started the competition with the former setting a new personal best in the 200m freestyle (1:55.50) and confidently leading. In the end, the 17-year-old ranked 30th among his competitors. Likewise, 16-year-old Maria Perez Garcia competed well in the 100m freestyle, on course to completing the race in under a minute before finally finishing 40th among the competition with a time of 1:00.60.
Next on the agenda will be the 50m freestyle for Maria and 100m freestyle for Bob, taking place this Thursday.