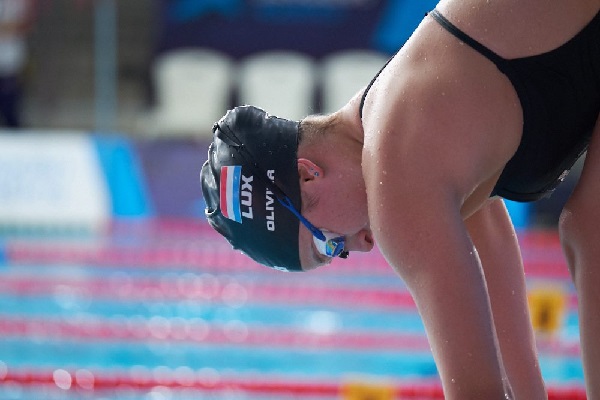 Monique Olivier; Credit: FLNS
Luxembourg swimmer Monique Olivier today competed in the 400 metres freestyle race of the European Championships in Glasgow, where she came 17th out of 31 swimmers.
Today's 400 metres freestyle race marked the end of the European Championships for the Grand Duchy's swimmers. The race saw Monique Olivier finish in 4 minutes 18.31 seconds, just 1.1 seconds under her season's best of 4 minutes 17.21 seconds. In the end, she ranked 17 among 31 swimmers.
The 20-year-old Luxembourger commented on her performance: "It was tough today, after over a week here at the European Championships in Glasgow. I should have started a bit faster, the second half of the race was quite good. I'm highly motivated for the new season."
To summarise Luxembourg's swimming trio's achievements at the European Championships, Raphael Stacchiotti came in 14th place in the 200 metres (2:01.99), Julien Henx sprinted to 25th place in the 50 metres butterfly (23.99) and Monique Olivier came 17th in the 400 metres freestyle (4:18.31).