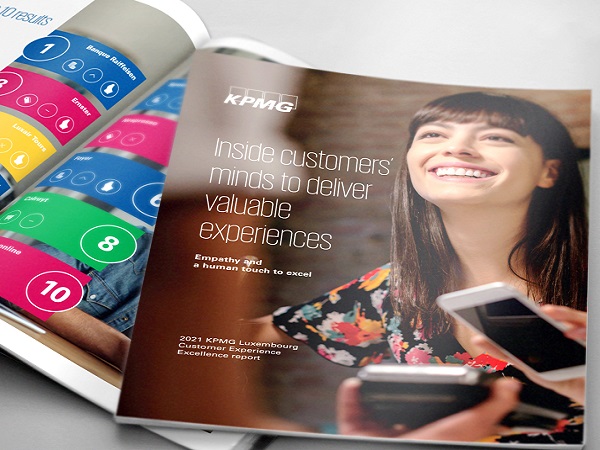 Credit: KPMG
KPMG Luxembourg, a leading professional services provider, has released its latest KPMG Customer Experience Excellence report.
The report, entitled "Inside customers' minds to deliver valuable experiences", sheds light on customer experience expectations in what is now called the "new normal". The research showed how many customers have reverted to their initial pre-COVID-19 high expectations.
In its ranking of the top 10 Luxembourg brands, KPMG highlights two joint number one brands: Banque Raiffeisen and Spuerkeess, both of which demonstrated strong trustworthiness and the recurring capacity to maintain proximity to their clients, even remotely, according to KPMG.
The family-owned book retailer Ernster (number one in 2018 and 2019) secured third place for the second year in a row, demonstrating once again consistency in the high-quality customer experience it provides.
Whilst last year's challenges involved finding solutions to reinvent and reconfigure their businesses, this year's goal was to maintain that pace and go one step further to ensure that ever-evolving customer needs and expectations were met, and possibly exceeded.
Commenting on this year's survey results, Jean-Pascal Nepper, Partner and leader on Customer Experience Excellence at KPMG, stated: "The customer journey is increasingly taking the direction of the new and challenging phygital world where the presence of new technologies is indispensable, if not taken for granted. The analysis of the multiculturally diverse Luxembourg market shows that customer expectations keep rising. This should be taken as a sign for top organisations to continue on their paths of exceeding expectations to stay ahead of the curve".
Top 10 Luxembourg customer experience brands in 2021
1. Raiffeisen / Spuerkeess
3. Ernster
4. Nespresso
5. Luxair Tours
6. Foyer
7. Lalux
8. Colruyt
9. Lineheart
10. Leading online retailer
The financial services sector (including both retail banks and insurance companies) defended its position as a leader in customer experience for the fourth consecutive year.
Overall, according to KPMG, the retail banking sector has handled the pandemic well. Massive efforts were made to continue to serve clients, despite the many obstacles present. This sector has also understood that the key to a great customer experience starts with a good employee experience.
Jean-Pascal Nepper added: "CX [customer experience] counts more than ever in times of crisis, and recent events show that it will not be the last time that Luxembourg insurers need to respond to a major disaster. A combined client-centric and a data-driven approach can provide the tools to maintain critical services in high-pressure situations and build customer relationships that will last a lifetime".
Restaurants and fast food were in second place this year, followed closely by the grocery retail sector. KPMG has deemed this a clear indicator of how food and conviviality have an essential role to play in consumers' lives by bringing people together and making them feel closer to each other after the mandatory social distancing that has prevailed in recent months.
KPMG concluded that, in order to increase customer satisfaction, loyalty and advocacy, brands need to look at customer experience as a priority topic that requires strong and efficient management. While innovation and digital solutions have been a must during the pandemic, according to the report, leveraging on new technologies to provide positive experiences should always be balanced by reinforcing human relationships and an authentic interest in the customer's real needs.
The study is part of a KPMG global research project from the Customer Experience Excellence Center analysis supported by customer specialists KPMG Nunwood, conducted with 88,616 consumers across 26 countries worldwide.
KPMG surveyed over 1,000 customers for its Luxembourg study, covering nearly 80 brands across nine sectors.